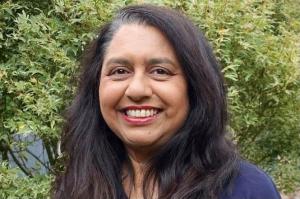 Residents of Wilmslow candidate Lata Anderson has won the Wilmslow Dean Row by-election for Cheshire East Council.
The ballot was triggered by Cheshire East Councillor Toni Fox (Residents of Wilmslow) standing down, due to her moving to another part of the country.
The by-election result was as follows:
● Lata Anderson (Residents of Wilmslow) – 447 votes (elected);
● James Andrew Booth (Green Party) – 34 votes;
● Birgitta Hoffmann (Liberal Democrat) – 46 votes;
● Frank McCarthy (Conservative Party) – 354 votes.
The voter turnout was 22.5 per cent.
Lata has lived in Wilmslow for 24 years and already sits on Wilmslow Town Council and on the Community & Order and the Finance Committees.
She helps organise Wilmslow's Festival of Nature with groups including Transition Wilmslow, Civic Trust, Cycle Wilmslow and many more. Additionally, she is involved with the Wilmslow Community Market Garden and a member of the Wilmslow Civic Trust.
Updated: Sunday, 5th September
Lata told wilmslow.co.uk "I am delighted the residents of Dean Row ward chose me to represent them and would like to thank all those who voted for me and helped with my campaign.

"I have already had my first official meeting as Dean Row councillor, when I met the Police & Crime Commissioner and the head of Wilmslow police on Friday 3rd September. It was a great opportunity to inform them of all the issues and concerns I have discussed with Dean Row residents over the past few weeks. They told me of some of the actions they are taking to address these problems (eg greatly increasing their number of motorbike officers) and will look into the other concerns we also discussed.

"My next actions are to improve the play area on Alverston Drive and to put the finishing touches to the recent Browns Lane park upgrades. I also want to see if there are funds to add some play equipment specifically for disabled children too.

She added "Additionally, I will also be looking at how we can make everyone aware of where they can get council help and information. For example, part of the Cheshire East website shows when your road gully was last emptied and when it is next due as they are now being routinely emptied every two years.

"My contact details will also be on the Cheshire Website in the next week or so and I want Dean Row residents to get in touch with me about any issues they have with the council. I am here to ensure they get access to any council services they need and to also make their wishes known when the council decides its policies and priorities.

"Therefore, I now have 20 months to show residents what I can do for them, before they have the chance to judge me again in the May 2023 elections."