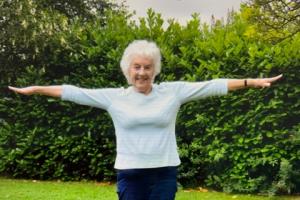 An incredible lady from Wilmslow is preparing to do a sponsored Wing walk to raise yet more funds for her Christmas card charity.
Sheila Hallas, who will be 90 in March is doing a sponsored Wing Walk on 17th September and hoping to raise £5000 to mark her charity's 50th year.
Sheila started selling Christmas cards for charities in 1971 and since then, along with an army of volunteers, Combined Charities Christmas Shops have raised £5.5m for 50 national and local charities
Unfortunately 2020 was a disaster for all charities as the pandemic put a halt to fundraising initiatives and prevented the opening the charity's 5 pop-up Christmas card shops.
Sheila said "As this is our 50th year, I wanted to make a special effort to raise much-needed funds for all our charities. Any money raised will be divided between our charities.
"Wish me well on my Wing Walk! I will be scared, but exhilarated, I hope!"
If you would like to support Sheila you ca donate online via https://www.gofundme.com/f/dn8hf-the-skys-the-limit