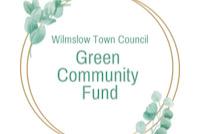 Members of Wilmslow Town Council agreed to establish a Green Community Fund at their meeting on Monday, 19th July.
The £10,000 fund will be used to promote and finance community projects that aim to deliver on biodiversity priorities of the Wilmslow Neighbourhood Plan and would therefore relate to:
'Greening the Town', including protecting, enhancing and expanding upon existing green features, or
Sustainable spaces, such as planned un-managed grasslands, nectar-rich species for insects and butterflies and open-water features, or
Biodiversity Conservation, including preserving wildlife and biodiversity, encouraging biodiversity and creating wildlife habitats.
Councillor Jon Kelly, who proposed the Green Community Fund on behalf of the Neighbourhood Plan Implementation Group, explained that he hoped the new grant scheme would "promote community engagement with the Neighbourhood Plan and in particular the important aspects relating to biodiversity" and that "the fund would help groups in the community to deliver their own projects."
Chairman Martin Watkins said, "I wholeheartedly support the establishment of the Green Community Fund. The projects funded by the new grant will have a positive impact on Wilmslow's natural environment and in turn help to promote awareness of nature and climate challenges, all of which will benefit the Wilmslow community. I would like to thank Cllr Jon Kelly and the Neighbourhood Plan Implementation Group for suggesting the initiative."
Click here for full details of the Green Community Fund, including the full criteria and application form.