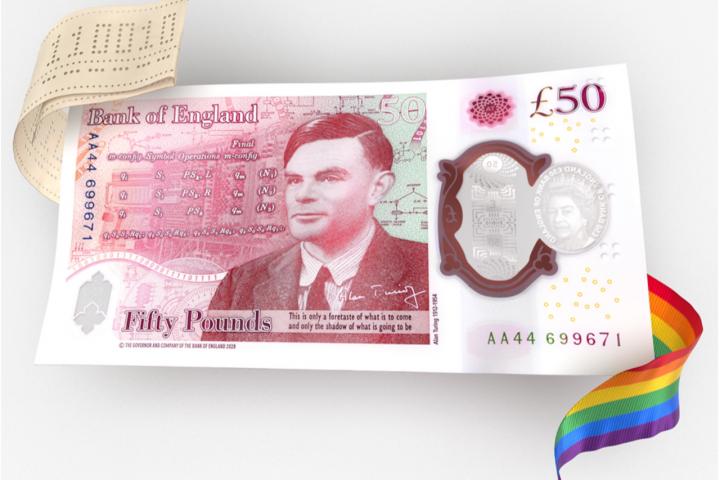 On the 23rd June the new £50 polymer note featuring the image of Alan Mathison Turing OBE, FRS will be released. The date marks the day he was born in 1912.
Widely accepted as one of the great innovative mathematicians and scientists of the 20th century, his genius embraced many fields. His
ideas led to early versions of modern computing, produced insights into what has become known as artificial intelligence and as one of the code breakers at Bletchley, his cryptology undoubtedly hastened the Allied Victory in World War II.
Turing moved to the University of Manchester in October 1948 as Deputy Director of the Computing Laboratory, where he helped develop the Manchester Computers. He also became interested in mathematical biology and morphogenesis - the theory of growth patterns and shapes in organisms.
Despite his many accomplishments, his contributions were never recognised in his home country during his lifetime as much of his seminal activities were covered by the Official Secrets Act.
In 1950 Turing bought a house at 43 Adlington Road, Wilmslow where he tragically died on 8th June 1954, aged 41, probably through suicide from cyanide poisoning. Councillor Jon Kelly organises popular historical guided walks around the town in September each year and when he asks groups who was the most notable resident of Wilmslow, the answer is almost universally given as Alan Turing.
It is felt that a permanent memorial to this brilliant visionary should be erected in Wilmslow. To this end Jon has formed a group of interested members of Wilmslow Civic Trust and Wilmslow Historical Society, to come up with an idea of how, where and when this could be achieved. Already the group has commissioned an original oil painting by local artist, Paul Webber, which it is hoped will hang in the Library. Smaller framed versions will be available for key locations in buildings around the town.
In September, Jon and his team hope to publish and disseminate through various channels a questionnaire seeking detailed views of the people of Wilmslow on what precisely they would support.
Guest post by Alan Cooper, Wilmslow Historical Society.