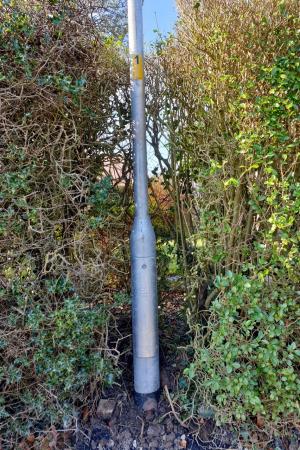 An elderly Wilmslow resident was horrified to discover Council employees had cut through her garden hedge, which had been part of her cottage since 1962.
Having heard drilling outside her home, Khumi Burton went to speak to two workmen who informed her they were replacing the existing lamp post.
She explained "In the afternoon I went to check and found to my horror they had cut through my hedge without telling me. The workmen had already left then. They did not have the courtesy to let me know that they were cutting through the hedge."
She added "I was horrified at the gap and there was nothing in place to prevent anyone from crawling through the hedge and into my garden."
A Cheshire East Council spokesperson said: "As part of our programme to upgrade street lighting across the borough, this streetlamp was installed at precisely the same spot as the redundant streetlight it replaced.
"The council has a right of access to a certain area of space to carry out this essential work. It is possible that the hedge referred to has become overgrown and may extend beyond the curtilage of the property.
"Normally, we would inform the resident of the work to be carried out but that was not possible on this occasion."