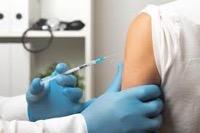 Figures published by NHS England (NHSE) on Tuesday 2 February showed that 244,955 Cheshire people eligible for the flu vaccination had been jabbed so far this winter, or 62.8 per cent of everyone entitled.
The rate rises to 73.4 per cent excluding 50 to 64 year olds, who were eligible for vaccination for the first time this year, and 129,316 or 83.4 per cent of residents over the age of 65, had been vaccinated. These are the people most likely to fall seriously ill from flu.
Now, Dr Andy McAlavey, joint medical director of NHS Cheshire Clinical Commissioning Group (CCG), has paid tribute to residents for taking up the vaccine in record numbers.
He said: "Our patients have gone the extra mile this winter to keep themselves and their loved ones safe. They have also played a vital role in stopping the NHS being overwhelmed by a combination of flu and Covid-19.
"Healthcare staff have also played their part by getting vaccinated in hospitals and GP practices in greater numbers than ever before."
The NHSE figures show that, of nine CCGs in Cheshire and Merseyside, Cheshire was top of the vaccination league table for 10 of 12 cohorts of eligible people and it was second in the other two. In addition, Cheshire has exceeded the England and North West average in all groups.
There have been very few recorded flu cases nationally this winter while GP consultations for flu-like symptoms have been low. At the same time, no outbreaks have been reported in Cheshire care homes.
Eligible people who would still like a flu vaccination should contact their GP practice or community pharmacist. To find out if you are eligible, visit www.nhs.uk and search "flu".