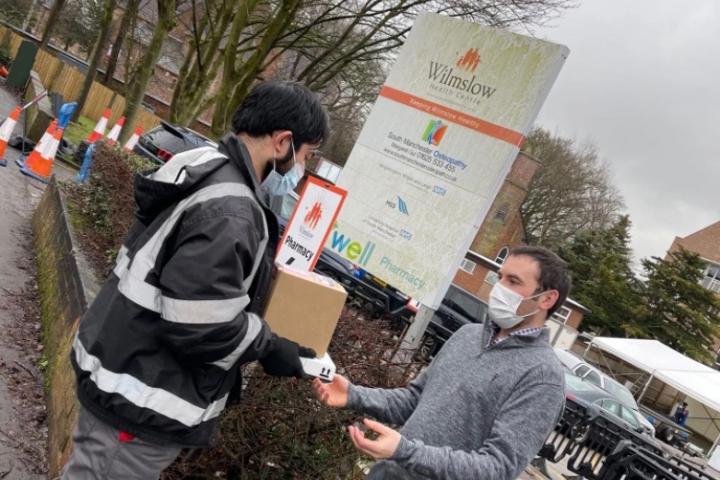 Medical teams working from Wilmslow Health Centre have now administered just over 3000 vaccinations administered in 12 days.
They are scheduled to receive another delivery today (Thursday, 21st January) and this week a series of smaller vaccination clinics are being held at each individual practice using the Oxford vaccine.
Next week another delivery of the Pfizer jabs is likely so a marquee will be erected in the car park to accommodate the volumes needed to use the vaccine within the 3.5 days allowed.
Dr Amar Ahmed, Partner at Wilmslow Health Centre, said "Vaccine supplies holding up now with weekly deliveries. The notice for delivery of vaccines from NHS England can be erratic which makes planning clinics challenging. The Pfizer vaccine lasts only 3.5 days from the moment it is delivered to us so we have to use up over 1,100 doses very quickly with only a few days' notice of the arrival of the delivery. Staff at all five surgeries that comprise CHAW PCN are working around the clock to organise and deliver the clinics as fast as vaccines can be supplied and many staff have cancelled annual leave to ensure this happens as quickly as possible."
The vast majority of the non-housebound over 80s population and residents in care homes have now been vaccinated. Whilst housebound patients should receive their vaccinations in the coming weeks, as the medical teams were awaiting further permissions and guidance from NHS England to allow them to vaccinate these patients in their homes. Local residents aged 75 to 79 will start to receive their invites imminently.
Dr Amar Ahmed said "All practices have been inundated with calls from patients asking when they are to be vaccinated. Whilst we understand that many patients will be anxious to receive their vaccinations as soon as possible, such calls take our staff away from the vaccination program needlessly and slow our progress through the cohorts of priority patients.
"This in turn contributes to the delay in reaching younger patients. We would ask that patients don't call practices to ask about when they will receive their vaccinations and respect that their surgeries are bound by national guidance, from NHS England and the Joint Committee on Vaccinations who have decided on the prioritisation of certain groups for the vaccination program as outlined below".

• residents in a care home for older adults and their carers
• all those 80 years of age and over and frontline health and social care workers
• all those 75 years of age and over
• all those 70 years of age and over and clinically extremely vulnerable individuals
• all those 65 years of age and over
• all individuals aged 16 years to 64 years with underlying health conditions which put them at higher risk of serious disease and mortality
• all those 60 years of age and over
• all those 55 years of age and over
• all those 50 years of age and over
He added "We know that our patients will understand that all practices in CHAW are working through these groups of patients as quickly as possible with only the supply of vaccines limiting how quickly we can do so. All eligible patients will be contacted and given appointments directly by their surgeries at the appropriate time."