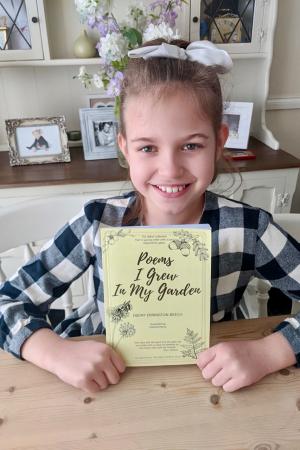 2020 was a memorable year for so many reasons, but for one local poet, it very much finished on a high.
11-year-old Ebony Errington-Beech from Wilmslow released her debut collection 'Poems I Grew in my Garden' bringing together twenty poems that she had written during lockdown.
The book was released on the 16th December, sold out from its first print run within 24 hours and has now rocketed into the Kindle Best Sellers list.
Profits from sales of the book will all go towards buying new tree saplings which will be planted as part of BBC Countryfile's 'Plant Britain' campaign.
Ebony appeared on the programme in December 2020 alongside her family, planting trees at the National Trust's Quarry Bank Mill site. It is hoped that 750,000 new trees will be planted as part of the scheme.
Speaking on New Year's Day at a special launch event celebrating her first solo book being published Ebony said "It's amazing. I can now spread my work across the country and get my message out about helping to combat climate change."