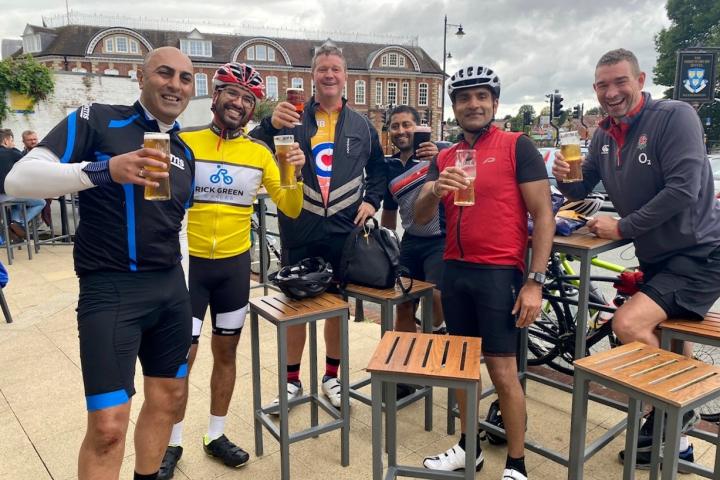 Pharmacist Rishi Bhatia is undertaking another epic fundraising challenge.
Back in May, at the height of lockdown, he raised over £3,000 to ease the chronic shortage of PPE that local care homes faced by running 5 marathons over the course of the month.
This weekend (11-13 September) Rishi, is taking part in a group challenge to cycle 250km from Wilmslow to Anglesey to raise money for a number of very worthy charities.
As a novice cyclist Rishi, who lives in Wilmslow with his wife and young son, has been training hard in order to take on the challenge. He regularly racks up 70 miles before breakfast cycling around Cheshire and into the Peak District.
The group of fundraising cyclists, who have called themselves 'Blazing Saddles' will be made up of 20 local businessmen all driven to raise money for charity and push themselves to new limits. So far over £30,000 has been raised, smashing their initial target.
The charities to benefit from their efforts are Cancer Research UK, Leukaemia Care, Prostate Cancer UK, Prostate Cancer UK, East Cheshire Hospice, The Brain Tumour Charity & The Royal Airforce Benevolent Fund.
Rishi said "This started off as a group of friends looking to keep fit together and then we thought 'let's do this properly' and set ourselves a real challenge to work towards, and raise some money for charities in the process!
"We are all aware that charities have suffered during the pandemic, so it was our way of trying to help out in any way we could."
Anyone wishing to support their fundraising efforts can donate online.
Photo (left to right): Punk Takier, Karan Vij, John Fay (MBE), Dharmesh Mehta, Rishi Bhatia and Steve Swindells.