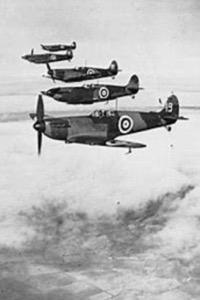 Wilmslow Historical Society knows that the virus lockdown has seen a lot of us looking into aspects of the past since we have perhaps found more time. The Society has produced a number of articles for their members and for publication on this website in the lead-up to VE Day, including those on local heroes, the RAF camp and celebrations of the day itself. We wish to continue this.
With the 80th anniversary of the Battle of Britain being celebrated in September, the Manchester Blitz remembered in December and more imminently the end of all WW2 hostilities being marked by VJ Day commemorations on August 15th 2020, the Society wonders what memories, records and stories Wilmslow folk might have about any of these decisive dates - with a specific focus on RAF experience, Manchester bombing or the conflict in the Far East.
We want to mark these important dates by drawing together some accounts into a Wilmslow record that will fittingly and respectfully mark the commemorations.
Do you have a family or personal story, records or photographs from any of these times?
If you have something of interest – and would like to share it - please get in touch by email at : [email protected] and help Wilmslow explore its history a little more deeply – with a view to some form of publication.
NB Wilmslow Historical Society is one of the largest historical societies in Cheshire with over 100 members. We will be resuming monthly meetings at the United Reformed Church in the large hall to hear a variety of interesting presentations as soon as the regulations allow. If you wish to join us then please contact us on the above email.