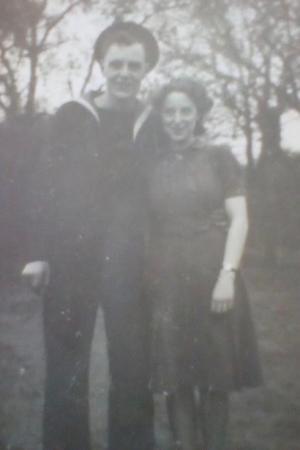 Nora Mottram has vivid memories of VE Day here in Wilmslow and spoke to Jon Kelly about them recently.
Nora was born in 1922 in a house on Lacey Green Road on Lacey Green (then known as Mount Pleasant). Her grandfather had built the house. She married Reg Fox in 1946 and moved next door where they lived until 1990. She now lives in Handforth.
"According to my very old 1945 diary like most people I was given the 8th and 9th May off as a holiday to celebrate Victory in Europe Day. My work virtually ceased from then so I was not required at Victoria Station, Manchester where I worked.
Because we were also war weary the celebrations were, by today's standards, quite muted, but remember then Wilmslow was only a village, so we all took ourselves to the Carrs to meet everyone we knew - hundreds of people were there.
The local brass band played and people just walked about and chatted. Then some of us made our way to the Carnival Field where people from the Fulshaw area had gathered. In Wilmslow itself I didn't see fireworks or parades or flag waving, but I do remember all shops were closed and the pubs were open. There were no tea parties as there was a shortage of food. Most Cheshire boys were in the Far East so the celebrations were quite muted.
At the time Reg, my husband to be, was serving in the Royal Navy as a Petty Officer on HMS Montclare. On VE Day itself as many British ships as could be spared from the Far East Pacific Fleet were anchored in Sydney harbour. The crews were met by local residents in cars with picnics for a day celebrating and enjoying the day on Bondi beach. After VE Day, Reg went to Brisbane where ships were fitted out to transport ex-prisoners of war home from Changi Jail, Singapore. I went down to Portsmouth to meet him on his return."
Photo: Nora and Reg pictured in 1942 on Lindow Common.
Guest post by Jon Kelly, in conversation with Nora Fox and Gaynor Richards