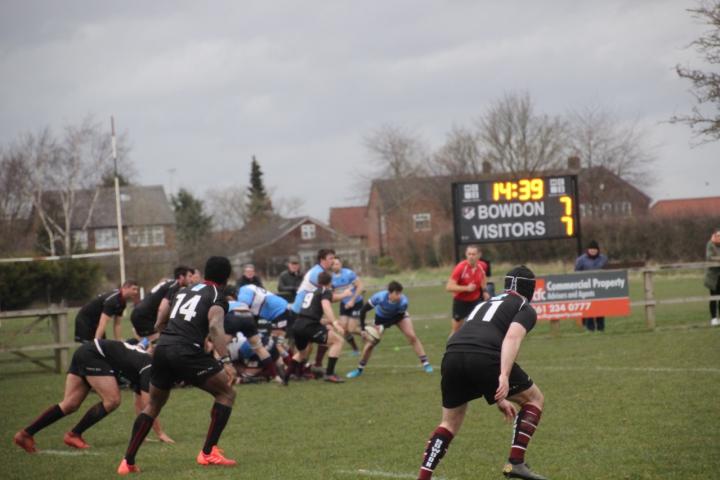 Saturday 7th. February 2020
North 1 West
Bowdon 34 – 33 Wilmslow
Wilmslow didn't have too much to grumble about after being edged out of this one by a single point. It was nip and tuck all the way, neither side was ever able to establish a clear advantage over the other and although Wilmslow out scored the home side by five tries to four, they were out done by Bowdon's two successful penalties early in the second half.
Bowdon's record of only three wins all season and only one this year against Vale of Lune had masked that they had recently competed well against Birkenhead Park an Altrincham Kersal despite still coming away with nothing from all their other matches in Januay and February. On this occasion, they had both their fair share of the ball from the set pieces and were able to play much of the game in Wilmslow territory. Nor were they profligate with their possession from which they created four good tries, two in each half.
In contrast, Wilmslow have waned in recent weeks. They have come to rely on Ethan Harding, Mark Jennings, Sean Street and Ben Day to get them out of the mire. Their other backs aren't bad either. It's up front where the Wolves are failing to dominate. Scrum and lineout are OK and much of the rest is also but you need more than just OK. No. 8 Alex Taylor aside, they are missing a couple of big bruisers to put themselves around the field, to graft and to carry the ball effectively. Adam Taher, when he's available, fits the bill best of all, whilst Sammy Lawton has looked an authentic No. 7 in the last month or so with a non stop impressive work rate. The other newcomers to the side are still young and have yet to make their mark.
Bowdon broke the Wolves defensive line in their opening sally to force a lineout on the Wilmslow line from where they went from one side of the field to the other and back again, by which time the Wolves defence had narrowed to leave at least three players unmarked for an easy opening seven pointer. Wilmslow's response was immediate as they plundered the ball from MacCallum's high and accurate restart, enabling quickly recycled ball to be passed out to Sam Cutts on the right wing for the equalising score.
Another fifteen or so minutes of Bowdon pressure was held up by the Wolves until the home side was forced to knock on at around halfway. From the scrum, the ball went into midfield for Ethan Harding to breach the Bowdon defences and his well timed pass to release Jennings secured a second try. The Wolves dealt with a tricky restart well but their exit sat up conveniently for Bowdon to counter attack and within a minute, they had their second score to tie things up again.
The Wolves third try followed just before halftime. MacCallum prodded a penalty into the corner and although the lineout drive was brought to ground, Alex Taylor still managed to take the loose ball to touch down.
With a gusting wind more in their favour than not, the money was on the Wolves to go further ahead in the second half. Not a bit of it. They were soon holed up in their own twenty two and as they tried to escape, they offended twice in quick succession and Bowdon just tucked away a couple of penalties. It wasn't until the start of the final quarter that Wilmslow started to get some field position and an increasingly influential Jennings was able to run round for the Wolves fourth try.
In the final ten minutes, Bowdon restored their lead with a try from a penalty lineout. They then booted the ball down the field from the restart only for it to be fielded by Sam Cutts, he released Harding for a sharp break and his inside pass to Street put the scrum half in under the posts. Still only six points separated the two sides until Bowdon's right winger raced away for what transpired to be the match winning try. There was still time for the Wolves to salvage a win but when they lost possession on Bowdon's line, that was it all over.
It was a game that could have gone either way. You couldn't begrudge Bowdon their success. On the day, they just about deserved it. On the other hand, there will be some gnashing of teeth in the Wolves' ranks as this was a game they really needed to win to re-establish their credentials amongst the league leaders.
Photo: Sean street passes from the scrum.
Match report by David Pike.
Tags: