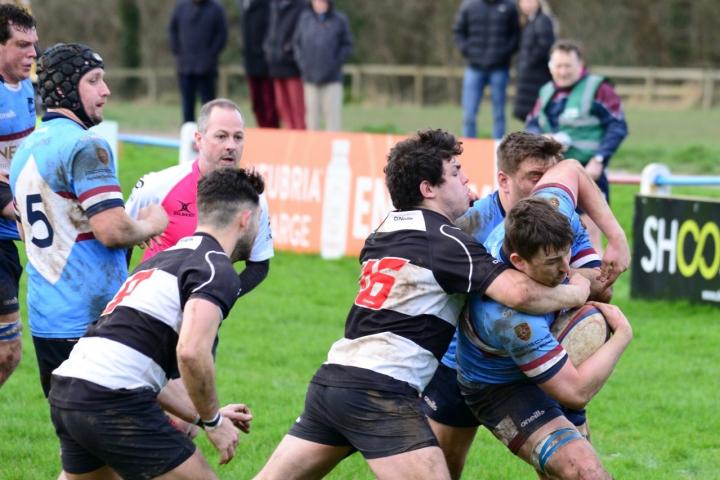 Saturday 8th. February 2020
North 1 West
Wilmslow 23 – 17 Broughton Park
It wasn't pretty and nor was it convincing but the name of the game, said coach Chris Jones afterwards, had been to get a win, any kind of a win, to end the Wolves three game losing sequence since the start of the year.
In the event, they had to dig deep into their reserves of stamina and character to keep a resurgent Broughton Park at bay during the final ten minutes in the Wilmslow twenty two. Park had shown throughout that they knew how to retain possession of the ball and in this period, according to Jones, they put together over thirty phases of continuous rugby. Wilmslow's defence for the most part kept its discipline and shape and refused to yield. When Park eventually lost control of the ball just a metre or so short of the line, the Wolves cleared the loose ball and the game was theirs. From the Wilmslow point of view, it was their best defensive showing since playing Firwood Waterloo and Birkenhead Park back in the autumn. The Park players though will be kicking themselves, when they review their tactical nous during this period. At one stage, their backs were totally unmarked and had, at least, a wide three man overlap but none of their forwards or scrum half noticed to release the ball to them for what must have been a certain score. And then, in what turned out to be the final play, they opted for a tap and go from a penalty in front of the posts when the scrum option might have been more productive.
Three tries though from flanker Matthew Norfolk-Clarke, full back Ben Day and left winger Sam Cutts together with one conversion and two successful penalty kicks from Bob MacCallum proved to be just enough. In reply Park scored two first half tries through prop Tom Dewland and centre Josh Maddox with full back Marcus Eaton adding seven points from his boot.
For the opening twenty minutes, Park dominated possession and territory. It wasn't that they were on top in any of the set pieces but that they knew how to keep hold of the football when they had it and with a bit more creativity might have made more of it than they did. Wilmslow are at their most dangerous when they try to put some pace and width into their game but the downside is that if your passing and handling is not sufficiently accurate and goes to ground or ball carriers get isolated, especially on a murky winter's afternoon, you won't have the ball for long and with long periods of tackling and defending, there's always the risk of conceding penalties at the breakdown.
After ten minutes play, Park put together a passage of recycling in the Wilmslow twenty two, which ended with Dewland forcing his way over through a tackle and under the posts. Within five minutes, Wilmslow replied when MacCallum stroked a penalty into the corner and from the lineout Norfolk-Clarke burst through to touch down. This was followed by Cutts cleanly taking an awkward high ball and finding space to counter attack. When the ball was recycled, MacCallum, seeing space out on the left, put in a pin point accurate cross kick, which was taken by Jennings and quickly fed to full back Day for the second try. Play was then held up when a loose dog decided to join in and briefly evaded everyone's efforts to catch him. When play resumed, Wilmslow were soon turned over when they got isolated at the breakdown. Park were then held up but Wilmslow failed to clear their lines from the ensuing scrum and Park with more turnover ball, this time put centre Josh Maddocks in for a 12 – 14 advantage at half time.
MacCallum and Eaton then exchanged penalties in the third quarter as play ebbed and flowed in both directions. The decisive moment came when Wilmslow pressed from a penalty lineout on around sixty minutes. The drive was held and Wilmslow were awarded a scrum from which Ethan Harding eventually put Sam Cutts in with a well timed wide pass. Minutes later MacCallum opted for three more points from a penalty in front of the posts.
Throughout the game Park's No. 10, Matt Hodgkinson had been restarting with highly accurate and testing high kicks. The Wolves had dealt with them reasonably well but this time they didn't and this enabled Park to get possession which they held on to as they laid siege to Wilmslow's line for the final ten minutes. It could easily have gone Park's way in this final flourish so it was with some relief on the Wilmslow side when referee Brown eventually blew for no side.
Hopefully, the Wolves will now have rediscovered what it takes to win in this league. There's very little to choose between the sides from Burnage at the top and Park in eleventh position. Next week the Wolves are away to a Warrington side struggling just one place off the foot off the table but with nothing to lose. They'll be very keen to secure their first win at their new ground.
Photo: Alex Taylor looks to be the victim of a high tackle as he takes the game into Broughton Park territory. Photo Nick Jones.
Match report by David Pike.
Tags: