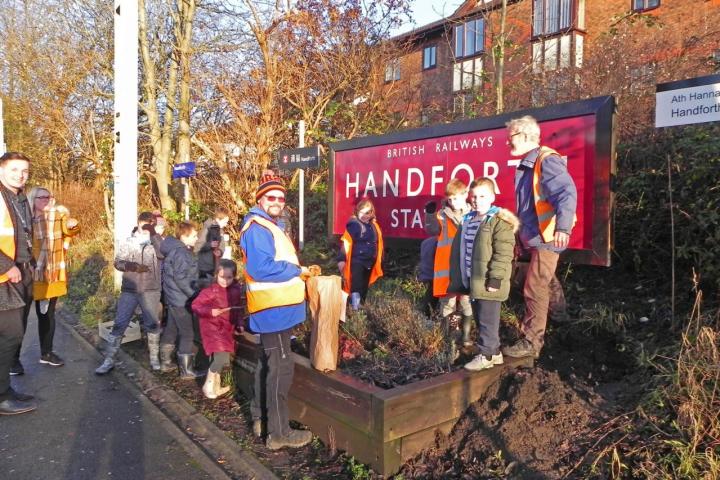 After several days of almost continuous rain, some Handforth school children took advantage of a sunny day on Friday 29th November to enjoy a gardening activity.
Having been invited by the Friends of Handforth Station (FoHS), a group of year 3 and year 4 pupils from Handforth Grange School helped plant a selection of spring bulbs at the station.
The children, accompanied by two of their teachers, assembled on the station concourse. After a safety briefing and being issued with hi-vis jackets and gardening tools, the children made their way down to the southbound platform where they planted approximately 70 daffodil bulbs in ground immediately behind a wooden planter.
They then planted a large number of crocus bulbs within the wooden planter and having returned to the station concourse, the children planted more crocus and daffodil bulbs in two of the concrete planters sited in front of the ticket office.
Andrew Backhouse, Chair of Friends of Handforth Station, said "We congratulate Handforth Grange School on the keen interest and excellent behaviour exhibited by its pupils, and we thank Mrs Booth and other teaching staff who made the station visit possible. Above all, the year 3 and 4 pupils have done a great job to ensure that Handforth Station will enjoy a good springtime floral display."
Hundreds of daffodil, crocus and narcissus bulbs have now been planted by FoHS in the embankment adjoining the southbound platform which ill hopefully create an impressive display of flowers in the Spring.