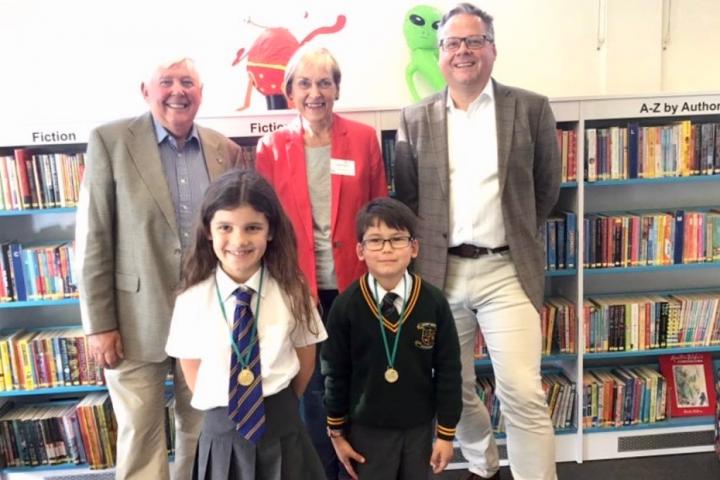 Wilmslow Library hosted two award ceremonies in September for children who completed this year's Summer Reading Challenge.
Organised by the Reading Agency, The Summer Reading Challenge runs every year during the summer holidays encouraging children to read any six library books of their choice and collect stickers and incentives along the way to encourage them to keep going.
This year was the 20th Summer Reading Challenge. The theme was 'Space Chase' which was chosen to celebrate the 50th anniversary of the moon landings. This proved to be a very popular theme with 717 children starting the challenge and 384 managing to read all six books. Jodrell Bank kindly donated 'Kids Go Free' vouchers enabling all participants to visit their Moon Landing 50 events and generous funding from Wilmslow Town Council enabled the library to host a wide variety of fun activities throughout the summer.
One parent said "Dominic really enjoyed Space Chase. We read quite a lot at home but most often it's us as parents reading to Dom. Space Chase definitely motivated Dom to do more reading himself."
Another parent commented "It has been a brilliant theme for the Reading Challenge – my daughter is really into space – she's read some space books, we have used the Jodrell Bank voucher and been to some of the free library activities – it has been great! Thank you!"
CEC Councillor Mark Goldsmith and WTC Councillors Ian Ferguson and Birgitta Hoffmann attended to present medals and certificates to the children who completed the challenge.
Jo Shannon, Library Services Manager said "Once again children in Cheshire East have surpassed themselves borrowing 181,139 books during July and August. Although we're at the end of this year's Summer Reading Challenge, we hope that children across the borough will continue to enjoy their reading. We look forward to seeing them in their local libraries where they can borrow a never-ending supply of wonderful books and take part in a wide range of activities and learn new skills".