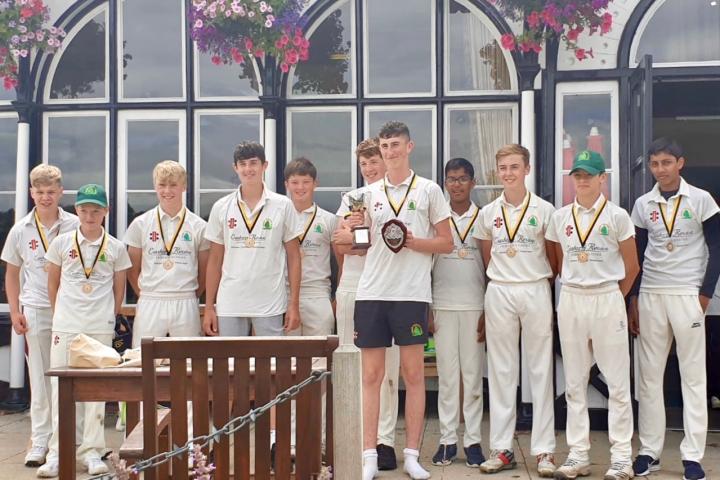 Lindow u15s were crowned cup winners for the first time since 2001 after an eight wicket cup final win at Bowdon. Bowdon were restricted to 102-7 from their 20 overs. Joel Flaxman (3-11), Jack Rae (1-8), Ed Coffey (1-16), Henry James (1-19) and Harry Whitmore (1-14) with the wickets.
In response Tom Orr (20) and captain Henry James (42) took Lindow to 71, before it came down to a nail-biting last over with six needed. Calm heads from Tom Wilson and Will Espley, who hit two fours, saw Lindow to victory.
Lindow 1st XI suffered only their second defeat of the season after a poor batting display at home to Hale Barns. The visitors batted first and finished 151-9, with Sully Raja and Tim Affleck both taking three wickets.
In response Lindow fell to 36-3, but as Adam Bull (20) and Atiq Uz-Zaman (46) rebuilt to 78-3 it looked as though the home side were back on track. However with both out the wickets continued to come and Lindow eventually lost the game by 20 runs. They remain in the promotion places and will look to bounce back at Stockport Georgians on Saturday.
Lindow 2nd XI travelled to Hale Barns in second place, with the hosts just a place behind them. Lindow batted first and finished 149 all out with Henry James top scoring with 26.
Lindow knew there was plenty in the pitch for the bowlers and so it proved with the home side being dismissed for just 87. Tom Rae, Mike Bufton, Rowan Day and Graham Clinton all took two wickets to add to run outs from Bufton and Will Beckley. The win leaves Lindow 2nd XI in the promotion places with eight games to go.
Lindow 3rd XI received a walkover win against Mossley, whilst the 4th XI beat Sale by eight wickets. Sale were bowled out for 117 with wickets for Paul Wilson (3-16), Andy Shaw (2-31), Joe Day (2-24), Simon Rowland (2-10) and Dave McBride (1-20). An 86 run partnership between Simon Bolton (44 not out) and Tom Wilson (37 not out) sealed the win for Lindow.
The Lindow Ladies made it three wins in a row with a nine wicket win away at Cheadle Heaton Mersey. Claire Ashworth and Jo Seddon were the standout performers with the bat and ball and Lily Humphrey was the pick of the fielders.
Match report by Rowan Day.
Tags: