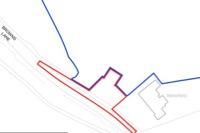 Revised plans have been submitted for a new wider access to a field off Browns Lane, which is owned by Jones Homes.
Initial plans were refused in August 2018 due to concerns over highway safety, impact on the character and appearance of the area and the loss of a protected tree. A subsequent appeal against the refusal of the planning permission was dismissed.
The revised plans reduce the access to 4.8m, from the previous 5.5m wide design, and amount of tarmac at the access has been reduced by over 7m which the applicants says will "significantly minimise the visual appearance of the access".
Additionally the fence to the side of the access on the new plan has been set back either side and a new hedge is provided behind this fence. A new section of hedge is provided across where the previous gate was and additional hedging is provided either side of the new access.
In a letter to Cheshire East Council on behalf of the applicant, Andrew Barton, Senior Planning Consultant, said "As can be seen on the submitted plan the proposal will not require the removal of the TPO tree to provide the access or the visibility splay. There will also be a net gain in hedge as the replacement hedge length will be greater than that being removed. Once established the new fence and hedge will be rural in appearance as the fence will be merely a stock proof fence and the hedge will be hawthorn as per the existing hedge, the gate is a standard specification for an agricultural access gate. For clarity there is an existing access that is not fit for purpose and the new access seeks to address this, there is no alternate location to access the field."
In response to concerns raised by the local ward Councillor and residents that the access is actually for a residential development, Andrew Barton says these "are unfounded".
He stated "The land is owned by Jones Homes and it is safeguarded for potential development beyond the plan period (2030). Unless planning policy changes Jones Homes have no intention to develop the land for housing until and if required then. The application is made to allow the beneficial use of the land in the meantime."
Wilmslow Town Council's Planning Committee have expressed concerns that the design of the new field access will encourage agricultural traffic to exit left and travel unnecessarily through a residential area and therefore recommend that this new access have a right-hand turn only restriction and be designed accordingly.
The revised plans can be viewed on the Cheshire East Planning Portal by searching for planning reference 18/5180M. The last date for submitting comment is July 3rd and a decision is expected by July 8th.
Tags: