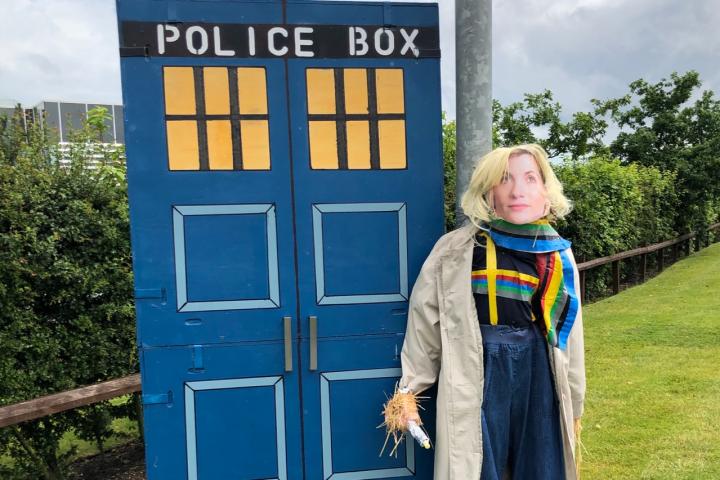 The 2019 Wilmslow Scarecrow Festival event has kicked off so look out for the fabulous straw creations which are starting to appear around the town.
Organised by the Rotary Club of Wilmslow Dean this popular family event, which brings lots of colour and fun to the town centre is now in its 10th year.
This year's Wilmslow Scarecrow Festival event runs from Monday, 16th June to 7th July 2019 during which weird and wonderful creations which can be found hanging out on the streets, on display in shop windows and even positioned high on the rooftops.
Many businesses, organisations and representations from the emergency service have chosen to adopt this year's theme of Aliens from children's comics, TV or films to tie in with the Summer Reading Challenge,so keep a sharp eye out for some visitors from outer space will will continue to appear around the town each day.
Ian Ferguson of Wilmslow Dean Rotary said "We have to date approximately sixty alien scarecrows throughout Wilmslow and at last count 180 sponsored hand held scarecrows to give the children, if the children go to the Wilmslow Show carrying their scarecrow then they get free entry and if they come to the Wilmslow Dean Rotary stand and show us their scarecrow they will be give a free lego kit."
The colourful and noisy Scarecrow Festival Children's Parade will take place on Saturday 29 June starting from Wilmslow Library at 11am. Led by The Poynton Youth Marching Band the parade will travel along the service road in front of Hoopers then across the traffic lights and down Grove Street to finish at Bank Square.Parents and Children come early to join the parade and to ensure they get their mini scarecrow.
The winners of the Wilmslow Scarecrow Festival will be announced at The Wilmslow Show on Sunday 7 July 2019.
Ian added "Around the top 5 will go to the Wilmslow Show and be judged by Esther McVey and Angela McPake, the chair of the Wilmslow Show. £100 will go to the winner's preferred charity, in their name, and
The winning schools / nurseries scarecrow, on show in Waitrose, will be judged by staff members and £100 will be given to their preferred charity in their name.