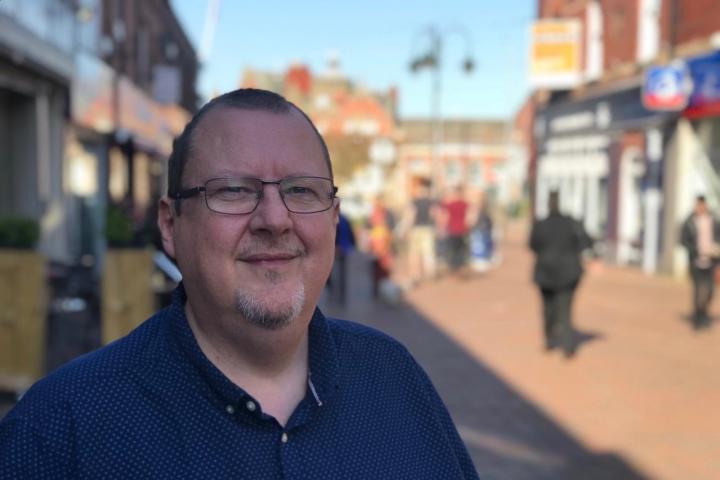 In the run up to the local elections on May 2nd I will be publishing brief interviews with each of the candidates - standing for seats on both the Town Council and Cheshire East Council - that respond to my request, in the order in which they respond.
To read interviews with other candidates you will be able to click on the tags at the bottom of the article. For example, pieces on the other candidates for the Wilmslow Town Council election will all be tagged 'Wilmslow Town Council 2019 Election'. Candidates representing the same party or group will also be connected via the tags, candidates competing in the same ward will be connected by tags as well and all articles will be tagged '2019 Local Elections'.
Damian Carr is a Liberal Democrat candidate for the Lacey Green ward on both Wilmslow Town Council and Cheshire East Council.
Damian has lived in Lacey Green for around 8 years and has two teenage sons, four grown up step-children and five grandchildren. He is currently working on developing the MancSpirit Charity which he founded to use creativity and The Arts to inspire positive well-being, especially helping people who are struggling with Mental Health issues. He was invited to become a Fellow of the RSA (Royal Society for the encouragement of Arts, Manufactures and Commerce) in recognition of his work within the Community Sector.
Why have you decided to stand for election as a parish councillor and ward councillor for Lacey Green?
In the last few years I've seen that the area has been allowed to decline. This is an affluent area and I know I can take a lead in turning this around. The Tories and Labour have let us down Nationally and local matters have been forgotten in the in-fighting. The current Tory candidate in Lacey Green has only attended 68% of meetings while he should have been representing us, this isn't near good enough. The Tory led Council take us all for granted as just another 'safe' seat and with your vote and support I'll hold the rest of the Council accountable to my family, friends and neighbours.
Have you stood for election before? If so, when and for which party?
Over the years I've been approached by all three major parties to stand on their behalf but it is only the Liberal Democrats that have the integrity and work hard at a local level to improve their own communities. I've helped others to win elections where the existing Council had taken their role for granted and I now find myself in the position to do the same.
What do you consider to be the important issues facing Lacey Green? ​
I've seen an increase in anti-social behaviour, youth violence and the town centre is looking grotty with empty shops, lack of parking and a crisis of identity. The last year has been the worst for roadworks and congestion which should have been planned better. The local park and streets around where I live are used more and more as a motorcycle race-track and although family, friends and neighbours feel the same and have asked for help, nothing changes.
Living in the heart of Lacey Green Ward I regularly speak to friends and neighbours and many of the issues are Family related. People need to feel safe, people want to feel included, people are crying out to have opportunity, people deserve to be heard and people have a right to be cared for. The Tory controlled Cheshire East Council have lost sight of this and I am determined to bring Compassion, Dignity and Family focused issues back on to the agenda.
What do you hope to achieve and how in the next 4 years? ​
Wilmslow obviously needs a change, new people, strong debate and some new ideas. I've got 25 years of experience empowering local people to have the opportunity to be involved in developing their own Communities for the better. My priority will be to encourage more local residents and business owners to have a voice, and an opportunity to take positive action, in Wilmslow and Cheshire East.
Taking the time to really listen to people's concerns and then making sure those concerns are championed and addressed is the role of a Councillor. If you don't do this, then you shouldn't stand. I have years of experience proving that I care and that I'm not afraid to stand up for what's right. This Council needs a long overdue 'shake up' and if people vote for me I'll most certainly make sure they 'wake up' and serve this Community better!
What experience and personal qualities will you bring to the role?
I've been an advocate for people in a variety of ways for many years! I was an elected Union Official in the Civil Service for 9 years at Local, Regional and National levels. I took a lead on many of the most serious 'Personal cases' and had a real talent for ensuring that individuals received the best support in the most difficult of circumstances.
I've also worked in Probation and several Prisons; managing, coaching and mentoring high risk Offenders. I worked successfully with people who have a variety of needs including mental health, drugs, alcohol, housing, etc. I've also worked on the streets of Manchester with beggars, rough-sleepers and homeless people.
But my real passion is in Community Development. I have a wealth of experience supporting Voluntary and Community Groups and I have a great interest in business development. I have inspired and guided individuals, groups and organisations to develop their strategy and potential. I can bring this experience, my extensive network and energy to improve Lacey Green and Wilmslow for the better.
Why should Lacey Green residents vote for you?
It is people in Lacey Green that approached me to stand for election and it didn't surprise me that those people that would usually vote for Tories or Labour were eager to nominate me. They want to see a change and felt that National Politics had let them down badly. We all know that Wilmslow is a great place to live - but it could be much better!
I'm honoured to be able to have this opportunity to represent my local community and I take the role very seriously. I have a genuine love for other people and I'll do whatever I can to see their lives improve. I'm committed to create some real Change, the positive Change that local people want to see, but to do that I need people to rock the boat and to give me their vote and support.