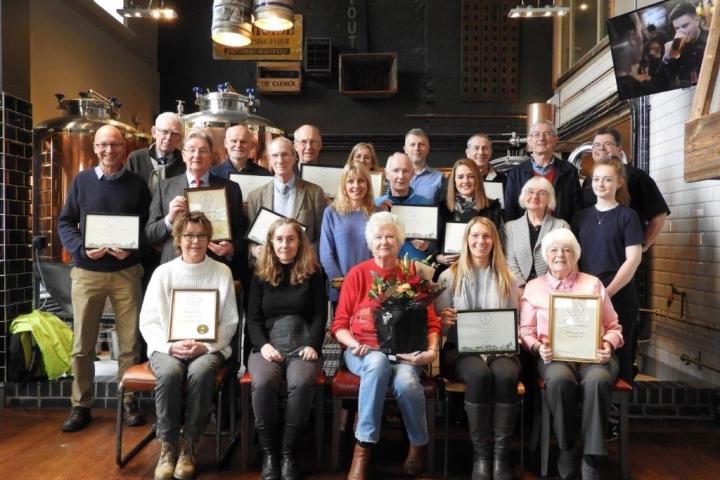 Communities from all four corners of the UK are donning their gardening gloves as they prepare to battle it out in the Royal Horticultural Society's (RHS) 2019 Britain in Bloom competition.
Now in its 55th year, the fiercely fought contest will see 71 finalists put their horticultural skills, community spirit and green credentials to the test.
Finalists are put forward to the national final based on their progress regionally. In only its seventh year of entry, Wilmslow In Bloom was judged the best large town in the north west and will be the regional champion in the national finals this year.
Ruth Menlove, Chair of Wilmslow In Bloom, said "The collaborative effort between the local council and Cheshire East, voluntary groups, schools and businesses has paid dividends. Together we have made our town look as attractive as it can be. When the town looks good we all feel good.
"We have badged this year's entry 'Wild About Wilmslow' and will continue the drive to plant and promote pollinators. The team will be encouraging independent entries to include fruits, vegetables and herbs. We will be repeating the planting of tomatoes and other fruits and vegetables around the beds at the Leisure Centre that became such a talking point last year. "
Chair of the Britain in Bloom judging panel, Darren Share said: "Britain in Bloom isn't just about spectacular floral displays and making our villages, towns and cities beautiful to live in and visit. Many of this year's finalists are on the frontline of tackling some of the UK's biggest challenges such as climate change, plastic waste on beaches and declining pollinator populations. The thousands of volunteers who will compete in this year's competition are a barometer for growing trends and the importance and impact of greening our communities. I can't wait to see their tremendous efforts this summer."
The RHS Britain in Bloom judges will visit the finalists during judging fortnight which starts on 29thJuly. The winners of each category and finalists' medals – ranging from Gold to Bronze – will be announced in October.
If you would like to contribute to the Wilmslow In Bloom entry please contact by phone or by text to Ruth on 07808 214 048.
Photo: Representatives of the eight volunteer groups which form the backbone of the Wilmslow entry together with the key partners from ANSA, the Clean Team and Wilmslow Town Council came together to celebrate last year's success at the Brewhouse, who were Gold award winners. Pictured above are members of the seven Neighbourhood award winners, the In Bloom Team holding awards and certificates for the Community Champion, the Pride of Cheshire East, the Gold award and the Best Town in the North West.
Tags: