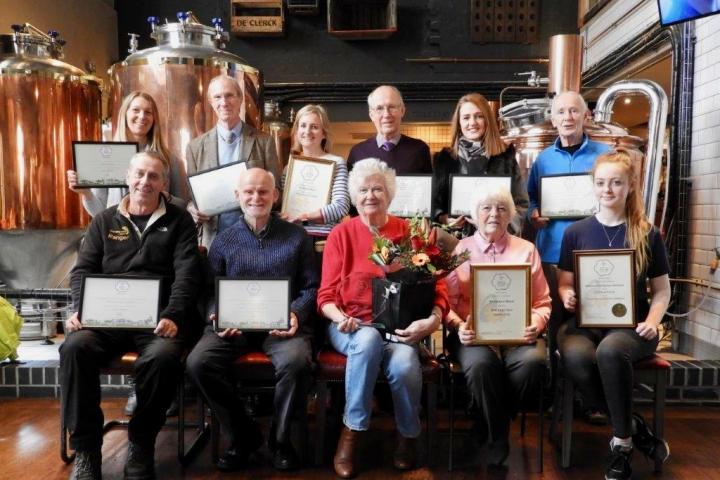 Representatives of the groups which made the town bloom again this year came together to celebrate Wilmslow's award of the best large town in the North West.
Wilmslow retained the 'Pride of East Cheshire trophy', won its fifth Gold award and was judged the 'Community Champion' of the area in the 2018 RHS North West In Bloom competition.
As the 'Best Large Town' Wilmslow has secured the honour of representing the North West in next year's national In Bloom finals.
Additionally, The Gardening Club at the United Reformed Church; Chapel Lane Business Group; Friends of the Carrs; Incredible Edible; Lindow Common; the Rotary Club of Dean Row and Transition Wilmslow all won awards in the 'It's Your Neighbourhood' category. Whilst The Brewhouse won a gold again, bringing the total tally of awards and trophies to twelve for the town.
The tremendous efforts were also supported by local schools and around 70 businesses who put out colourful planters and the town council who provided hanging baskets.
Ruth McNulty, Chair of In Bloom, said "We thought we'd done well last year, when we brought home eight awards, including a Gold. This year's achievement of twelve awards is marvellous. This recognises not just the huge amount of work undertaken but the skills and determination to maintain displays through the hottest, driest summer we've enjoyed for some time. The Judges are always looking for improvements in the town and we obviously demonstrated this in spades."
The In Bloom team is bringing forward their preparations for the entry in to the National finals next year. The theme will be 'Wild about Wilmslow' and will continue with the emphasis on pollinating plants and the encouragement of insects, particularly bees. If you would like to help call Georgie Johnson on 07770 931231.
Photo: Standing (L to R): Helen Yates, Incredible Edible, Frank McCarthy, Rotary Club of Wilmslow Dean Row, Georgie Johnson, Iain Duncan, URC, Julie Dawn Potts, Chapel Lane Business Group and Ian Baillie, Friends of the Carrs.
Seated (L to R): Paul Hughes, Lindow Common, Garry Olsen, Transition Wilmslow, Ruth McNulty, Chair Wilmslow In Bloom, Joan Fitzgerald and Amanda, Brewhouse and Kitchen.
Tags: