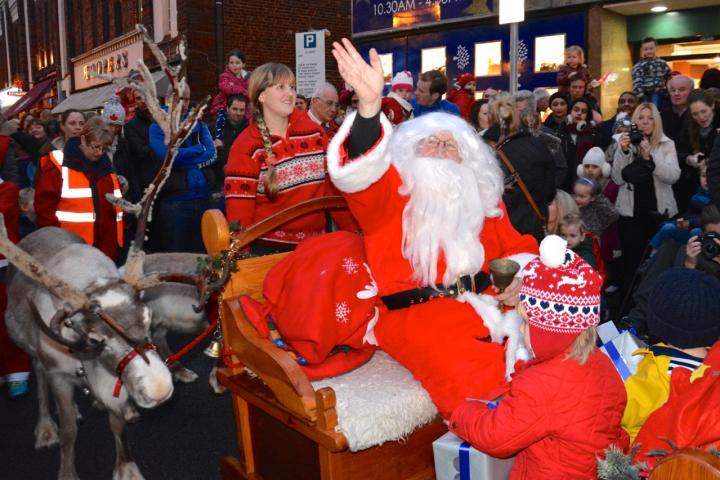 This year's Wilmslow Christmas lights switch-on will take place on Saturday, 17th November. The date has been brought forward by one week from previous years in order to coincide with the Artisan Market which will have a special Christmas theme.
Once again the Reindeer Parade will be the centrepiece of proceedings when it sets off from Bank Square at 4pm and makes its way to the Library Garden, taking in the market on route.
The day will start when the market opens at 10am along Alderley Service Road and the reindeer are due to arrive at around 2pm.
The stage will be set up in front of the library where performers will include Wilmslow Rock Choir and the primary school choirs of Lindow, St Anne's and Gorsey Bank.
This year to celebrate the return of cinema to the town centre the switching on of the Christmas lights will be undertaken by Louis and Sophie Mundin of the Rex Cinema who we understand will be delivering some exciting news before they switch on the lights with Santa at 5pm.
The Artisan Market will remain open until after the switch-on to provide refreshments and gift ideas and to ensure that the day offers something for every member of the family.
The car parks at Sainsbury's, Hoopers and the multi-storey at Spring Street (off Water Lane) will be FREE on the day from 10am but residents are encouraged to walk in to town if possible as it is likely to be busy throughout the day.
Cllr Angela McPake (Chairman of the Town Council Events Group) said "We sought and received lots of feedback from the public as to how we could enhance the switch-on event. The overwhelming message received was to retain much of what has proved very popular over recent years, notably the reindeer parade and school choirs on the stage, but also to add a market to the event. We are delighted that it has been possible to tie in with the Artisan Market this year to widen the events appeal. The other feedback we received was to try to celebrate what is good about Wilmslow and this year the news of the return of the Rex appears to have captured everyone's imagination. I am delighted that Louis and Sophie Mundin have agreed to switch-on the lights this year and to hopefully give us the news that everybody has been waiting for.
"I hope that the day proves to be even more popular than in previous years and that the switching on of the enhanced Christmas lights will herald the beginning of a successful festive period for the businesses of the town."