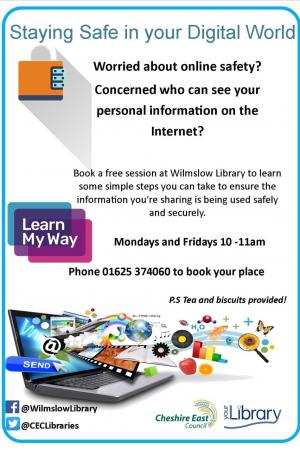 Local residents are being invited to complete a free short online course at Wilmslow Library which is designed to help them keep safe online.
'Staying safe in your Digital World' consists of five very short, easy to follow sections that can all be done in one sitting. Sections include 'Safe sharing with companies', 'Spotting scams online' and other very useful information for helping to protect personal information.
Librarian Marg Charlesworth said "We'll be there throughout to help our borrowers to complete the course and we'll even provide tea and biscuits at the end!
"We've earmarked Mondays and Friday 10-11am for people to complete the course but would be happy to accommodate anyone who can't make these times."
The course is free and people are encouraged to book soon to reserve their place by ringing Wilmslow Library on 01625 374060.
Tags: