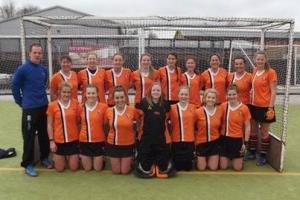 Deeside Ramblers Ladies 1sts 0 Wilmslow Ladies 1sts 4
For once Wilmslow Ladies 1s travelled in practically 'balmy' weather to play their most important game of the season so far, a trip to second position Deeside.
As expected, the game started at a cracking pace with the Deeside youngsters breaking rapidly up with wings, with the support of an experienced defensive unit behind them.
Despite this Wilmslow repeatedly put in well timed tackles and it wasn't long before the travelling tangerines started to control the tempo of the game. Within 5 minutes, the building pressure from the more experienced side found Annika Hall in the D with a long range shot. The keeper parried well only to find Hall again with the rebound which she made sure hit the back of the net, opening the scoring for Wilmslow.
Constant effort through midfield from Walters, E.Kelman, Troup and Loughlin unsettled the young hosts and Emilie Kelman soon doubled the score with a neat reverse stick shot.
The cool and collected transfers by Fleming, and the Kelman twins meant Wilmslow were able to hold onto possession seeing out the first half with a 2-0 lead.
Coach Rob Turner's tactical team talk saw a focused and driven Wilmslow return to the pitch after the break. Despite Deeside's attempt to tire the visitors with regular subs with fresh legs, the experience of Charlie Platts, Hall, Lily Harrison and Lindsay Rachubka held strong with repeated interceptions and firm tackles.
Superb movement and teamwork up from from Rachubka, Carla Botha and Honey Dickinson proved hard for the hosts to deal with. 'Protea' Botha's slick stick skills were on show as she pulled of an incredible bit of hockey to dance around several defenders and the keeper to slot in Wilmslow's third.
Determined to keep a clean sheet, Wilmslow went down to 10 after a late tackle saw Hannah Kelman warming up the 'sights step' for 2 minutes. Even being a man down, the Orange attack didn't let up. With keeper Cat Lang in top feline form making several critical saves at one end, a short corner at the other found Maddie Troup perfectly positioned to tap in the teams fourth.
The 4-0 final score provides an 8 goal improvement in goal difference for ladies who remain unbeaten so far still this season. Needing only 2 points from 2 games to be champions, Wilmslow will be ready to face a strong Timperley side next weekend..
Wilmslow Ladies 2nds had a comfortable 3-1 win against Bowdon 4ths which should secure promotion for a second consecutive year. Match highlights were two goals from excellent short corner strikes from Tracey Moir.
Ladies 3r​d​ lost 0-4 away to league leaders, Brooklands but the 4ths beat third placed Bebington 2nds 2-1 to strengthen their promotion chances.
Wilmslow Mens 1sts 4 Newcastle University 1sts 6
Wilmslow Men's first team took on Newcastle University in their final home game of the season.
Newcastle started brightly, playing a fast and direct style of hockey. Wilmslow were unable to match their opponents in the opening 15 minutes and although the home team defended a series of short corners well, the visitors finally took the lead from a straight strike that deflected in off goalkeeper Si Pickering's stick.
This sparked Wilmslow into life, and after some excellent build up play a foul on Steve Edmonds when the goal was at his mercy awarded a Wilmslow a penalty stroke which Matt Westbrook sent high into the net to level the scores.
Newcastle took a lead into the break when their player kicked the ball on the halfway line to start an attack which ended with a sharp finish.
Wilmslow did not let this affect their focus, and seized the initiative with a blistering start to the second half. A flowing move down the left hand side need with Edmonds crashing the ball home to level the scores.
Wilmslow took the lead shortly after, when good work from Tom Davenport and Man of the Match Will Townley gave Cam Armstrong a scoring opportunity. Armstrong was taken out from behind by the Newcastle goalkeeper, and Westbrook stepped up again to put the penalty stroke low to the keeper's right.
Just 5 minutes later Wilmslow were further in front and when a short corner broke down, Jack Wright reacted quickest to slam the ball into the far corner. This sparked Newcastle into life and the away team began pressing harder and increased their intensity.
A lucky bounce in the D enabled Newcastle to trim Wilmslow's lead, and shortly after they levelled the scores after good work from their captain left a simple finish at the back post.
Newcastle were in the ascendancy and capitalised on their host's tiredness with two further goals in the closing minutes to snatch victory. Not many visitors win at Oakwood Farm and Newcastle's late flurry left Wilmslow disappointed. Wilmslow will be aiming for better results in their final games of the season - away to Stockton, Harrogate and Chapeltown.
Mens 2nds beat Bramhall 1sts 2-1 to move up to top spot however Timperley 2nds have games in hand.
Mens 4t​ h​ have turned into a late season goal machine. This week they hammered Sale 3rds 11-0. The 5ths drew 0-0 with Macclesfield 4t​ h​ to maintain a creditable 8t​h position.
Match report by Steve Kinsella.
Tags: