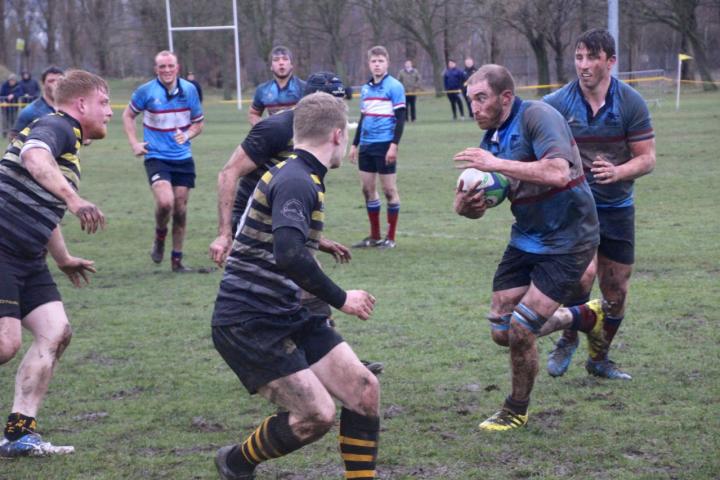 Saturday 10th. March 2018
North 1 West
Northwich 29 – 30 Wilmslow
There were less than two minutes still on the clock when Northwich full back Joel Barbour broke the Wilmslow defensive line deep in his own twenty two and then proceeded to hold off any covering defence for a length of the field try. It was the kind of try which would have deservedly won any match. His side only had to field the restart, to run down the remaining time with a couple of narrow drives around the fringes and to bang the ball out of play. They would have scored four tries and earned the maximum five league points to retain their challenge for second place at the top of the league.
If only! Obligingly, from the Wilmslow point of view, the Northwich forwards conspired to drop the restart, worse still to allow the chasing Wilmslow forwards to grab the loose ball. All afternoon, the Wolves had chased kicks ahead and at the restart with a venom not seen much recently, harassing their opponents whenever possible. Whether this was on the mind of the Northwich receivers, who knows! Wilmslow now had one last chance. Any fumble or knock on, momentary loss of possession or breakdown would signal the end of the game. Everything had to be perfect and it was. The ball was spun from left to right and back again, it was taken on up the middle and slowly the Wolves worked their way to within a few strides of the Northwich line where once again the ball was recycled to Sean Street. The scrum half some how, like a weasel, squeezed himself into and through the slightest of openings, where none seemed to exist, slipped a tackle attempt, lengthened his stride and crossed the line under the posts. The Northwich players looked shell shocked as they might well have been; Wilmslow's euphoric as they delightedly mobbed their No. 9. Bob MacCallum added the extra two points and referee Kieran Henry blew for no side.
What a finish to a well contested match. It may be remembered in Wilmslow annals as the try of the season because the Wolves had kept their heads to show a new patience, not normally their forte, to keep the ball alive in that lengthy final play, accompanied by no little skill and nous. It may be fanciful to think that it was anything more than a last gasp effort to win a match which looked to have swung against them or could it just possibly have heralded the start of something new for a side, that has introduced so many new young players this season.
If Wilmslow hadn't enjoyed the rub of the green in their previous outing, then may be they did on this occasion. During the second and third quarters, they had been outplayed by the home side who squandered several clear cut opportunities but nonetheless still took two of them, through left winger Bud Skinkis and No. 10 James Reilly, during this period to lead 22-16. The Northwich pack had had the bit between their teeth, driving forward, counter rucking effectively and their dangerous backs were making inroads. The Wolves were still on a full scale damage limitation exercise when they had a stroke of good fortune as the pendulum started to turn towards them in the final minutes. Winger Will Maslen finished off a good period of play touching down in the right hand corner but was adjudged by referee Henry to have been tackled around the neck in the act of scoring. He awarded a penalty try, which was hotly debated afterwards, but strangely no Yellow Card. The effect, of course, was seven points for the Wolves, instead of five with a difficult conversion attempt to follow. For the following few minutes, the Wolves seemed to be in control as they sought another try, which would have put them out of sight and just as importantly to keep Northwich bottled up in or around their own twenty two.
The Barbour intervention followed by Street's opportunism in quick succession then brought the game to its exciting conclusion.
For the first quarter, MacCallum and Street had put some very effective box kicks for Elliot Rowe and James Coulthurst to run onto, which had had the home defence in some trouble. There was an eagerness to chase the kick ahead in both open play and at the restarts, which hasn't always been apparent recently but in this match it paid handsome dividends. MacCallum kicked a penalty after five minutes but it was against the run of play when Maslen's run down the left wing led to a loose ball being picked up by Northwich's Richard Dale, who ran in unopposed for a seven pointer on the quarter hour. The Wolves still looked the more likely at this stage, with a second MacCallum penalty immediately followed by a kick and chase taken by Coulthurst, a quick piece of recycling and full back Ben Day intruding for a very good try. A third MacCallum penalty then had the Wolves 7-16 to the good. Quite simply the Wolves' pressure in the first half hour was forcing the home side into a series of breakdown offences.
Maslen's try in the seventieth minute then opened it all up for the final moments of joy and ecstasy, firstly for Northwich, misery and grief for Wilmslow and then a complete reversal after the final play.
Coach Rick Jones was particularly pleased afterwards for his players. He said "We're not a bad side but the last few weeks have been difficult, non availability, injuries, match cancellations because of ground conditions and so on.
"We just hadn't really done as well as we could have and may be heads were beginning to drop. We got the players together to talk about what they thought was going wrong and what they could do better and then put it into practice on training nights. I'm really proud of their response.
"Adam Hewitt stood out as a proper No. 7 in this match, Jack Masters probably had his best game ever at No. 6 and many of the others, young players like Charlie Gardiner, Max Wortley, Will Maslen and George Witham also put in a good shift. Northwich are a decent side with some outstanding players so to come here and to snatch any kind of a win speaks volumes for the character of this side."
Photo: No. 6 Jack Masters takes it on.
Match report by David Pike.
Tags: