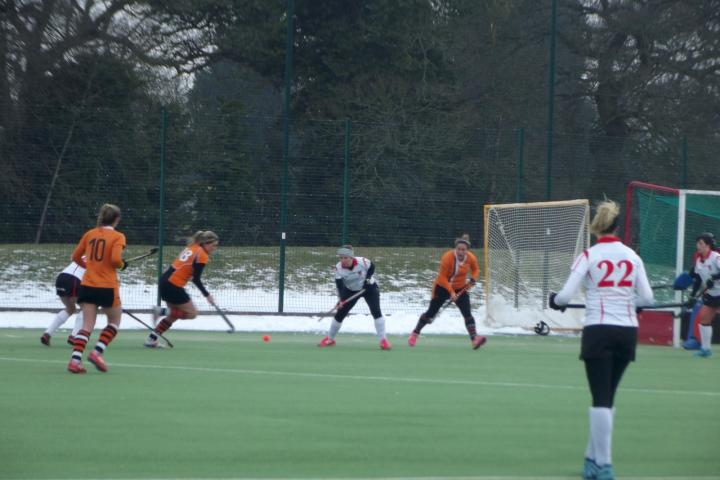 Wilmslow Ladies 1st 2 Crewe Vagrants Ladies 1st 0
An unbeaten Wilmslow 1st XI played host to a strong Crewe Vagrants team after taking maximum points from their double header against Bolton and Triton last weekend; results of 5-1 and 4-0 respectively.
Wilmslow started brightly and within the first 10 minutes had tested the Crewe keeper in goal, who put in an admirable display. A period of dominant play and attractive hockey resulted in a series of penalty corners for the home side. After a couple of near misses, Lindsey Rachubka stepped up and slotted a perfectly timed and powerful strike into the bottom corner for her 14th goal of the season.
The Tangerines continued to prove their dominance with their attacking unit linking up effectively and creating several good opportunities; chances the team would have backed themselves to convert on another day.
Wilmslow were later rewarded for a promising period of play when captain Charlotte Kelman found herself unmarked in the 'D' and was picked out with a lovely cross from Carla Botha. The girls had doubled their lead and looked confident going into the break.
The second half proved to be a similarly straightforward affair with Wilmslow demonstrating why they find themselves unbeaten and top of the table. Their attacking talent was causing all sorts of trouble for the Crewe backline with their goalie keeping them in the game. The best defence in the league remained firm and never seemed likely to concede with keeper Cat Lang in excellent form on the few occasions when she was called upon.
A disciplined and experienced performance saw the ladies take all the points comfortably, despite the narrow scoreline. On a weekend where all the other league fixtures were postponed, Wilmslow capitalised and another valuable win extends their lead to 5 points over Deeside Ramblers, to whom they travel to next weekend in what looks set to be a tasty encounter. A traveling army of loyal supporters are expected to add extra encouragement and motivation in what has been an already impressive season for this squad.
Crewe Vagrants Ladies 2nds 1 Wilmslow Ladies 2nds 2
Wilmslow Ladies 2nds had the result of the day by beating league leaders Crewe Vagrants 2nds 2-1 away. This now puts the Tangerines in second place two points behind Crewe.
Wilmslow Mens 2nds 6 Chester 3rds 1
With the Mens 1st game in Sheffield cancelled due to the weather a sizeable crowd watched the second string take on Chester 3rds. Wilmslow settled early and soon went into a 2-0 lead. They then dozed off slightly allowing Chester opportunities to get back into the game. In the second half, however Wilmslow dominated and scored another four goals. League leaders Timperley's game was cancelled which allowed Wilmslow to leapfrog to the to of the table.
Match report by Steve Kinsella.
Tags: