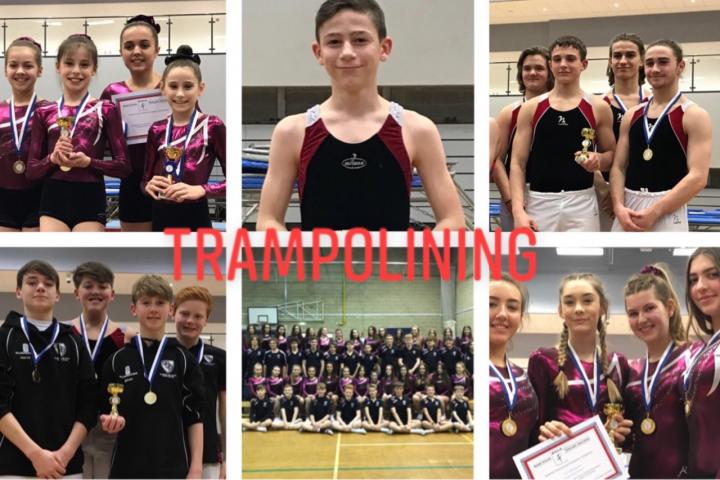 Eight Wilmslow High School trampolining teams travelled to Huddersfield on Saturday to take part in the North of England Finals. It was another hugely successful day for our teams with six teams and two individuals qualifying for the National Finals to be held in Belfast on the 24th March.
In the individual competition, Abby Regan was crowned Under 13 girls novice champion while Ben Dickinson finished in third place. In the team competition, 5 of our teams finished in first place: Under 13 girls novice, Under 19 girls intermediate, Under 15 boys novice, Under 19 boys intermediate and Under 19 boys Elite. The Under 15 boys novice B team finished in 2nd place and also qualify for the National Finals. The Under 19 girls novice and Under 15 boys intermediate teams finished in 3rd place, narrowly missing out on qualification.
Team results
North of England Champions:
Under 13 girls novice: Abby Regan, Lara Plant, Mia Greenwood, Katie Odgen Under 19 girls Intermediate: Gracie Davies, Molly Andrew, Shauna Greaves, Georgia Long Under 15 boys novice: Harvey Spendlow, jack Mitchell, ethan hughes, Jack Loynton Under 19 intermediate: Finlay greenwood, Ben Dickinson, Oliver Weir, Dominic Rowe Under 19 Elite: Conor Smith, Jack Colledge, Matt Graham, Ethan Ford
2nd placed team
Under 15 novice: B Finley Michaelis, Sam Poole, George Ainsworth, Fabio Stubbs
3rd place teams
Girls under 19 novice: Katie Phythian, Millie Ridal, sara Shaanoun, Juliette Hill Boys under 15 Intermediate: Alfie Kenworthy, Oliver Gordon, Aidan Smith, Harry Best.
Guest post by Huw Williams.
Tags: