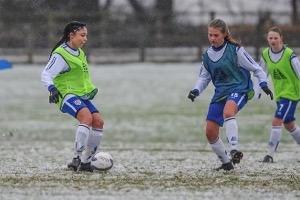 A Year 9 pupil from Wilmslow High School has been selected for the England Schools U15 football squad.
Sally Ann Hitchen has been an outstanding performer for her school team and has also excelled in the Cheshire U14 squad for the past two years.
Huw Williams, PE lead at Wilmslow High School said "Sally Ann's dedication to sport is inspiring, she has been Captain of the school football team and a great leader both on and off the pitch."
Miss Cragg, who has coached Sally for the past two years, praised Sally's desire and drive to succeed, putting in the extra time to practice and perfect individual skills in her own time.
Tags: