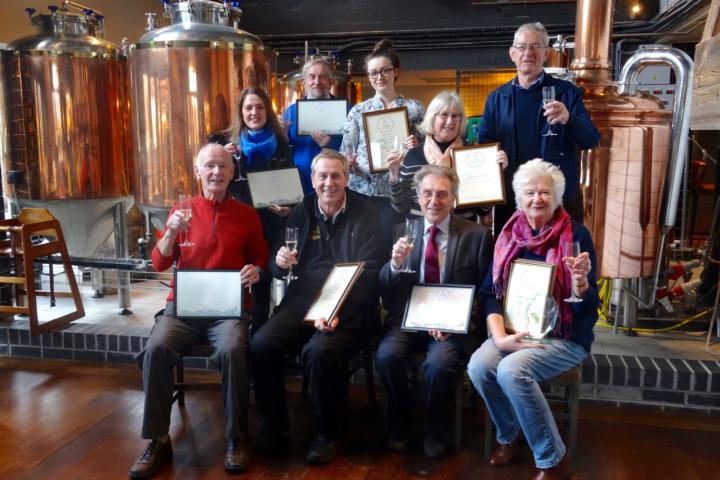 Having collected a blooming fantastic haul of seven awards from the North West In Bloom judges in November, the Wilmslow In Bloom team of volunteers are celebrating after adding another accolade to their crop of awards.
The Royal Horticultural Society has recently confirmed that the work on Lindow Common has been recognised with an award for outstanding achievement. Unfortunately this was overlooked in the presentations for 2017 but it is now safely in the hands of the Wilmslow In Bloom team.
Stuart Kinsey, Chair of the Lindow Common Advisory Group, said "We are very proud of the achievements both of the rangers and the volunteers, who contribute to the maintenance of the common."
He added "This 43 acre site, within walking distance of the town centre, is an invaluable asset to residents and visitors alike. It is a haven for wildlife including some rare plant species, particularly in the fenced mires. I would encourage people to join one of the regular accompanied tours to help the appreciation of this fascinating area."
Ruth McNulty, Chair of Edible Wilmslow In Bloom, added "I'm thrilled that the work of the Rangers has yet again been rewarded and recognised. Lindow Common has long been a Site of Special Scientific Interest and a Local Nature Reserve of which Wilmslow can be proud.
"The Rangers welcome volunteer assistance during the winter months to help control self-seeded saplings and other projects. These help to maintain the rare dry heathlands that provide a habitat for a number of species including ground nesting birds."
In November 2017 the Wilmslow In Bloom team collected seven awards. Not only did Wilmslow win a fourth Gold Award in the Best Large Town category, in their fifth year of entry, but they also achieved the Pride of Cheshire East Award – a prize made at the discretion of the Judges among every town entry in east Cheshire.
The town also scooped three 'It's Your Neighbourhood' awards. The Friends of the Carrs achieved the top tier of 'Outstanding, whilst the Chapel Lane Business Group and Transition Wilmslow were both awarded the 'Thriving' tier for their work on Chapel Lane and in The Temp.
Additionally, the work of the Wilmslow Clean Team was rewarded with a Highly Commended certificate, to acknowledge the contribution they make to the general appearance of the town, and a Gold medal award went to the Wilmslow Brew House and Kitchen in the Small Accommodation category.
Photo: Back row (L to R): Julies Dawn Potts (Ch(apel Lane Business Group); Maurice Palin (Incredible Edible); Chloe (Brewmaster and Kitchen); Sally Hoare (Wilmslow Clean Team); Rod Menlove (CEC).
Front row (L to R): Ian Baillie (Friends of the Carrs); Ranger Paul Hughes (CEC); Stuart Kinsey (Lindow Common Advisory Group; Ruth McNulty (In Bloom).
Tags: