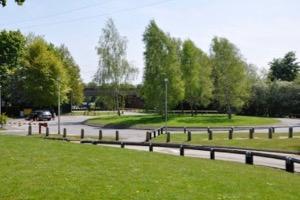 Parents have been asked to be considerate when dropping off and collection their children from Wilmslow High School.
In a newsletter to parents the school said "The turning circle outside of the House of Rompa nursery can be very busy at peak drop-off and collection times and we greatly appreciate the consideration, patience and polite approach of the majority of visitors. However, recently there have been a few occasions when a small number of visitors have generated verbal disputes or caused safety concerns as a result of their actions."
When entering the school from the A34 bypass drivers are urged to pull to the side when dropping off and collecting students, not double-park around the turning circle and not use the entrance to the 6th form car park as a drop-off, waiting, collection or turning point.
The newsletter says "There is a high volume of traffic, both entering and leaving the site, that tends to still be decelerating from the permitted bypass speed limit or accelerating as it leaves the school site. Additional unnecessary pedestrian and vehicle traffic crossing the road at that point increases the likelihood of an accident and can hamper the flow of vehicles into the school site from the bypass, leading to increased congestion in all approaches to the A34 roundabout."
Referring to those who wait or park in local residential streets the school said "We politely request that those drivers choosing to park or wait in neighbouring residential streets, particularly at the very busy peak drop-off and collection times, do so in a way that is legal and which is considerate to the residents of those streets, seeking to minimise inconvenience to them by not directly blocking driveways or obstructing the reasonable flow of traffic on those streets.
"Again, we greatly appreciate the consideration of the majority of drivers, and thank you for your co- operation with this matter."
Tags: