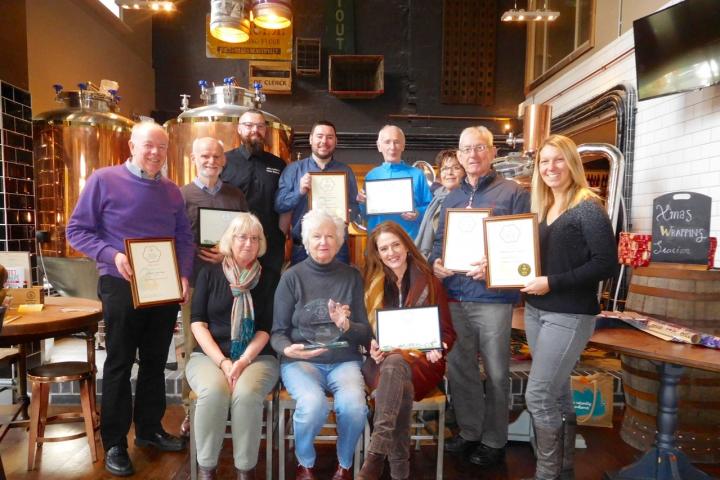 The In Bloom winners came together on Friday, 10th November, to collect their haul of no fewer than seven awards, including a fourth Gold medal.
In Bloom, the largest collaborative event in Wilmslow, brings together over 70 businesses - who put planters outside their place of work - a number of voluntary organisations including Transition Wilmslow, the Rotary Club of Wilmslow Dean, Fulshaw WI, the Clean Team, Incredible Edible, Guides, Scouts and Rainbows and many more.
When granting the awards the judges consider three activities – horticultural achievement, environmental responsibility and community participation.
Ruth McNulty, Chair of Wilmslow In Bloom, said "We thought we'd done well last year when we achieved four awards, including a Gold but this is marvellous and genuinely recognises the huge amount of work going on in the town.
"Every primary school has a gardening project; there are five allotment sites, all with a waiting list of keen new tenants. We couldn't hope to visit them all but we had our pick of some very interesting developments.
"Aside from the sheer number of projects, the judges were impressed with the quality of the work. As we walked on to the Temp, the judges were saying that this year they had not seen crops on apple trees because of the weather. They were therefore very impressed that the trees on the Temp were groaning with the weight of fruit on each and every one. Equally, Chapel Lane is looking much more cared for not just because of the tubs of flowers but this has acted to encourage hedges to be cut and self-seeded growth removed.
"I am very proud to be associated with this initiative, warmly congratulate all winners and thank all contributors".
Photo: (l-r) Back row: Colin Jones (Wilmslow Clean Team 'Highly Commended'), Garry Olsen (Transition Wilmslow It's Your Neighbourhood 'Thriving'), Head Brewer and Mike Jones (Wilmslow B&K Gold Medal in the Accommodation), Ian Baillie (Friends of the Carrs It's Your Neighbourhood 'Outstanding'), Denise Valente (Wilmslow In Bloom), Cllr Rod Menlove Cheshire East Council, Helen Yates (Edible Wilmslow).
Front Row: (l-r) Sally Hoare (Wilmslow Clean Team 'Highly Commended'), Ruth McNulty (Chair of Edible Wilmslow In Bloom), Julie Dawn Potts (Chapel Lane Business Group It's Your Neighbourhood 'Thriving').
Tags: