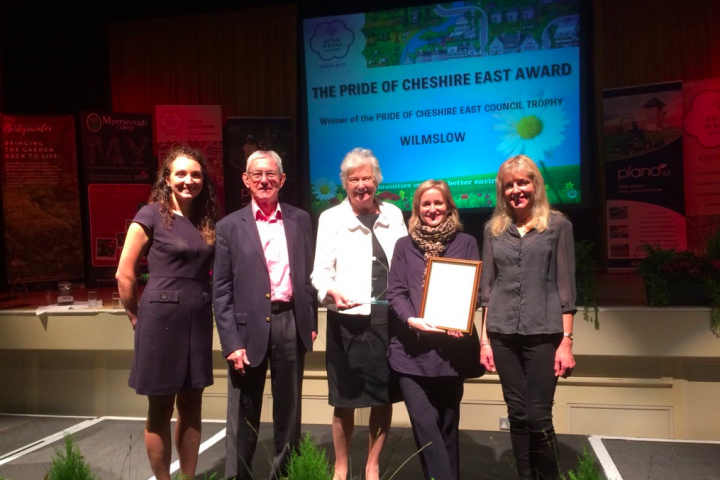 Wilmslow has scooped their largest haul of awards and accolades from the North West In Bloom judges.
No fewer than seven awards were collected over the past two days at ceremonies in Southport.
On Thursday 2nd November, three 'It's Your Neighbourhood' awards went to Wilmslow groups. The Friends of the Carrs achieved the top tier of 'Outstanding, whilst the Chapel Lane Business Group and Transition Wilmslow were both awarded the 'Thriving' tier for their work on Chapel Lane and in The Temp.
To cap this recognition, on Friday 3rd November, the work of the Clean Team was rewarded with a Highly Commended certificate to acknowledge the contribution they make to the general appearance of the town. To follow the Gold medal award went to the Wilmslow Brew House and Kitchen in the Small Accommodation category.
Not only did Wilmslow win a fourth Gold Award in the Best Large Town category, in their fifth year of entry, but they also achieved the Pride of Cheshire East Award – a prize made at the discretion of the Judges among every town entry in east Cheshire.
Ruth McNulty, Chair of Edible Wilmslow In Bloom, commented "The quality of our entries in various categories demonstrate the commitment and expertise among the business community, in the voluntary groups and in the strength of the community involvement around the town.
"As Chair, a major part of our responsibility is to encourage activity, to know what is going on and to put the results in front of the Judges. As the clutch of Award certificates and the trophy for the Pride of Cheshire demonstrate all too clearly, the level of achievement and the standards attained are remarkable. I am so very proud to be a part of this initiative, which gives so much pleasure. I thank and congratulate everyone who contributes to this remarkable drive to make Wilmslow an even more pleasant place to live, work or visit."
Meanwhile Alderley Edge in Bloom picked up a silver gilt in the Best Small Town category and Styal were awarded a silver medal in the Best Large Village category.
Tags: