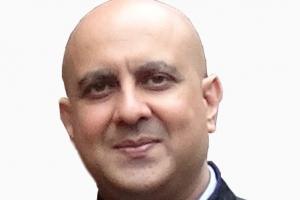 A local NHS surgeon has been chosen by members to join Wilmslow Town Council to represent the Lacey Green ward.
Following the resignation of Bradley Russell, voters in the Lacey Green Ward were invited to request an election but they did not so, because the Council's term has more than six months to run, they were required to co-opt an individual to Wilmslow Town Council.
Councillors agreed to seek nominations from individuals who wished to take up the role. The Chairs of all the Council's committees, and any other members who wished to attend, interviewed all the candidates following a short presentation from them as to why they were seeking co-option.
Then at the Town Council meeting on Monday, 17th July, they voted for their preferred candidate to fill the vacant position on Wilmslow Town Council.
Dr Chetan Katre, who lives in Wilmslow East, is a Consultant Head and Neck Cancer and Reconstructive Surgeon working in the Manchester area.
He previously stood as a candidate for the Wilmslow East ward in August 2016 when voters chose Mark Goldsmith (Residents of Wilmslow) to represent them.
Speaking at the time Dr Chetan Katre told wilmslow.co.uk "As someone who works in the NHS, I have a keen interest in road safety and will make this a top priority. I also want to improve Wilmslow as a place to live. The Town Centre and surrounding areas have benefitted from work that the Town Council has already done, but I believe there are many more opportunities."
Dr Chetan Katre has backed the ongoing work to create a Neighbourhood Plan for Wilmslow which will feed in to the Cheshire East-wide Local Plan.
He told wilmslow.co.uk "The Neighbourhood Plan is an excellent idea giving residents of Wilmslow a say on how their town develops. I support the cross party view of all Wilmslow Town Cllrs that on the Royal London site new offices are needed for continued economic vibrancy, but that it is the wrong place for housing."
Dr Chetan Katre also highlighted the pond and stable block near Wilmslow Leisure Centre as an area urgently in need of improvement.
He said: "This is an area that has been neglected for too long. The pond is a potential danger to children using the Leisure Centre, and it is also an area that could be very beautiful. The stable block is in urgent need of repair and could provide accommodation for a local business or organisation, or a community hub for Wilmslow."
Councillor Martin Watkins, Chairman of Wilmslow Town Council, said "Wilmslow Town Council is pleased in welcoming Mr Chetan Katre as a co-opted member to represent the Council's Lacey Green ward following the resignation of Bradley Russell. We look foreword to his contribution to public life in the town."