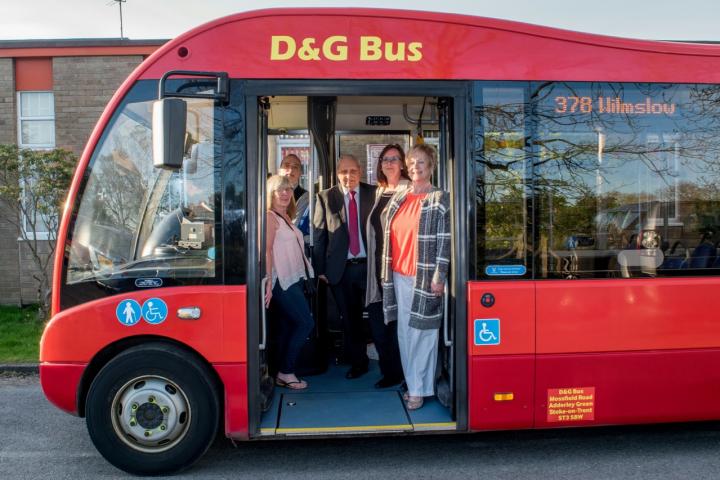 Wilmslow Town Council and Handforth Parish Council, who came together in an attempt to save the 378 bus service, are commending the two ladies who worked tirelessly to campaign against its closure.
Janet Taylor and Julie Lowe from Handforth acted very quickly once they were made aware of Stagecoach's plans to terminate their 378 service at the Stockport border from April 23rd.
The ladies set up a petition to 'Keep the vital 378 bus route to Wilmslow' which collected 3700 signatures and spent a considerable amount of time delivering leaflets and knocking on doors, all at their own expense.
Speaking at the Wilmslow Town Council meeting on Tuesday, 18th April, Cllr David Pincombe delivered a report about the work which had been carried out to campaign against the closure of the 378 service, the discussions entered into with Stagecoach, the provider of the service, and the work carried out to explore other alternatives.
Cllr David Pincombe said "The campaign against the closure was up and running almost immediately the news broke that the 378 from Wilmslow to Moor Lane was going to cease on 23rd April. This campaign was put together by two ladies from Handforth, Janet Taylor and Julie Smith (Lowe), who worked tirelessly to inform residents in the areas affected and petition through the collection of signatures which, after a period of just over two weeks, numbered 3521."
Cllr Cllr Martin Watkins, Chairman of Wilmslow Town Council, said "I am extremely pleased that two local councils worked together to find a solution to this problem. The solution is not perfect but it is a lot better than what we were presented a month ago. We had really useful meetings together, we met Stagecoach together, we've kept everybody else informed and we've done it in a very short period of time.
"Two ladies here from Handforth have gone out of their way to get people to sign the petition, it says here there are 3521 - that's when it was written - there's now 3700 people that have signed that petition, that is 12.5% of our combined populations of Wilmslow and Handforth."
He added "The important thing here is that all of us need to start using that bus service because the number of people who are using it at the moment is ridiculously small. I think 0.3% of the population of Lacey Green actually use that bus service at the moment and no commercial bus company is going to operate a bus service with that sort of return on it.
"If you think about it people who live down Knutsford Road and Altrincham Road have now got a connection through the town centre to the shopping complex at Handforth Dean, which they never had before. Also this bus service is going via the railway station which it didn't do before. So there are opportunities for people to use it, not just in Lacey Green and Handforth but to use it to go to places like the train station.
"The two ladies who have raised this petition have gone out of their way and at their own expense to knock on doors and push leaflets through the doors to try and publicise this service. There's no cost to Handforth Council and no cost to us at the moment to doing this so I would really like to commend what has been done here and the work that the two councils have done together."
Members agreed to write to Janet Taylor and Julie Lowe to recognise the significant contribution they have made.
Cllr Cynthia Samson, Chair of Handforth Parish Council added "I would really welcome that as they have worked extremely hard. They also came into Wilmslow and delivered a number of petitions but the take-up in Wilmslow wasn't very good but they carried on and in hindsight it might have been better if we could have given them to the Town Clerk to put on the noticeboards even but we had to act extremely quickly which they did.
"They had over 100 petitions printed over night, they did 3 hours in Handforth dean, all voluntary. they are to be commended."
The D&G 378 service starts on Monday 24th April but with some alterations. The service does not take in the Colslaw Estate, because D&G do not want to clash with the Arriva 130 service, but instead it will be a loop service from Wilmslow to Handforth Dean Retail Park.
Cllr Pincombe said "It was agreed that monthly figures would be produced and sent to both councils for appraisal. A full review of the service will be conducted after six months."
Speaking about their meeting with Cheshire East Council to discuss all aspects of the closure with them, he added "Several points were covered which ranged from why Cheshire East had not taken a lead following the announcement by Stagecoach at the end of February, the anxiety of residents who were going to lose the service, especially the elderly, and what could Cheshire East do to now assist the current situation.
"They indicated that the bus service was commercially operated, where no subsidies could be offered, this apparently is common practice throughout the majority of local authorities. What they did offer however was their full support with a publicity campaign to try and get more residents to use the service and this campaign has already started.
"In summary it is clear no subsidy will be forthcoming, certainly in the near future, to assist with the running of the 378 bus service, and costs are too prohibitive for local councils to consider taking on this burden.
"My proposal is to monitor the monthly usage, continue the publicity campaign for the next six months and consider other options if feasible in the hope that it will increase numbers using the bus service. If this fails then unfortunately I feel the service as we know it will disappear."
The D&G 378 service will travel from Wilmslow Station to Bank Square, Lacey Green and up Manchester Road to Handforth and Spath Lane. Unlike the current Stagecoach service, the new D&G 378 will not cover the Colshaw Farm Estate, which is served by an Arriva service, or go to Stockport - instead it will continue onto Handforth Dean.
The new 378 service will launch on Monday 24th April and run roughly every hour Monday to Friday. The earliest bus will leave Spath Lane at 8.14am, with the last bus returning to Spath Lane 7.57pm.
Click here to view the timetable for the new D&G 378 service.
Photo: Janet Taylor, David Pincombe, Julie Lowe and Cynthia Samson with the new D&G bus, credit Martin Vincent Photography.
Tags: