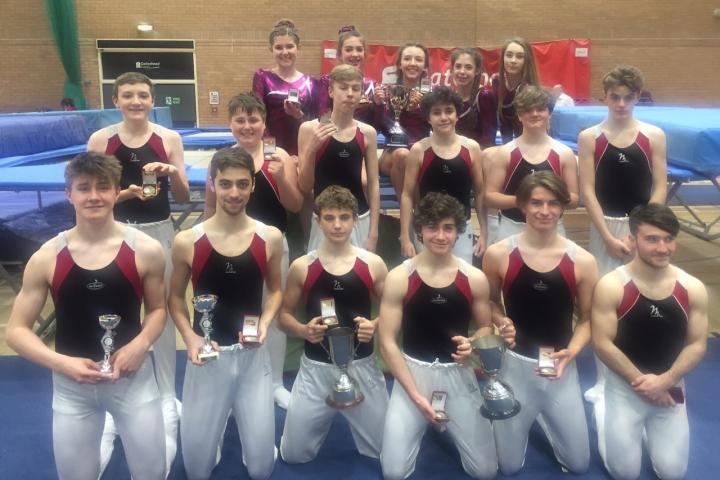 Twenty one Wilmslow High School students enjoyed another hugely successful day at the national schools' trampolining finals in Gateshead on Saturday.
Having negotiated their way through the North West and North rounds of the competition, the school had high hopes for a strong showing in the finals.
In the under 14 boys' novice team category, Wilmslow finished in 5th position, while the under 19 boys' intermediate team placed 3rd. In the under 19 boys' novice, the under 19 girls' intermediate and the under 19 boys' elite category, Wilmslow's teams finished in first position and were crowned national schools champions.
In the individual competitions, 6 students recorded top 10 finishes, with Conor Smith, Alfie Kenworthy and Mollie Bennett 8th in their categories, Dominic Rowe 6th, Ben Fazelynia 3rd and Teniel Cowen 2nd.
Coach Hilary Pemberton was once again delighted with the teams' performances, remarking on the hard work and dedication the students have shown in training throughout the year.
U19 Elite Boys' Elite Team: Brendan Smith, Conor Smith, Jack College, Matt Graham
U19 Novice Boys' Novice Team: Tenniel Cowen, Dominic Rowe, Ben Fazelynia
U19 Intermediate Girls' Team: Georgia Long, Gracie Davies, Esme Plant, Shauna greaves
U19 Intermediate Boys' Team: Ethan Ford, Oliver Pipping, George Holt
U14 Novice Boys' Team: Alfie Kenworthy, Ollie Gordon, Aidan Smith, Harvey Spendlow
Guest post by Huw Williams.
Tags: