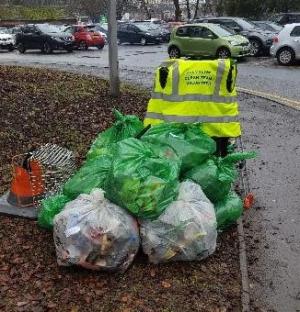 A team of volunteers who help keep Wilmslow tidy by organising litter picks have had a good start to the new year.
Wilmslow Clean Team held their first scheduled litter picks of 2017 last week during which they collected 35 bags of rubbish.
Four volunteers met in Lacey Green on Wednesday, 4th January, and collected 9 bags of litter, 1 bag of sand, and assorted bits and pieces from the park, parts of Barlow Road, Twinnies Road, Egerton Road and Cliff Road. In addition, one of the volunteers collected two bags of litter on Knutsford Road.
Then on Saturday, 7th January, eleven volunteers met at the Leisure Centre and focussed on the town centre, including the Leisure Centre car park and pond areas, Alderley Road, Manchester Road, Mill Street, Church Lane, Parkway and Sainsbury's car park.
A spokesperson for Wilmslow Clean Team said "Parkway was very dirty and so was Sainsbury's car park. We will need to find out who is responsible for maintaining the car park and surrounding bushes. We may need a further blitz there in the Spring Clearn which we are planning for March. There was one car park spot where a dozen half filled bottles of water had been thrown into the bushes – presumably someone likes to go there every day and throw their bottle away."
On Saturday the group collected a total of 24 bags of litter, some recyclables, a broken traffic cone and a shopping basket.
Wilmslow Clean Team are delighted to welcome two new volunteers.
The spokesperson added "Newcomers are always welcome – there never seems to be a shortage of litter!"
Wilmslow Clean Team organise litter picking events twice a month on the first Wednesday of the month and the following Saturday. They were set up in October 2013 and started their litter picking events in December 2013. Since then they have collected 1684 bags of rubbish in the town.
The next Litter Picking Event will take place on Wednesday 1st February from 10am to 12 noon. Volunteers will meet in the Parish Hall car park and focus on The Carrs. Then on Saturday 4th February from 10am to 12noon when they will meet in the Honey Bee car park and focus on Altrincham Road and the airport tunnels.
They are always on the lookout for new volunteers, visit their Volunteer page if you can spare some time to help.
Tags: