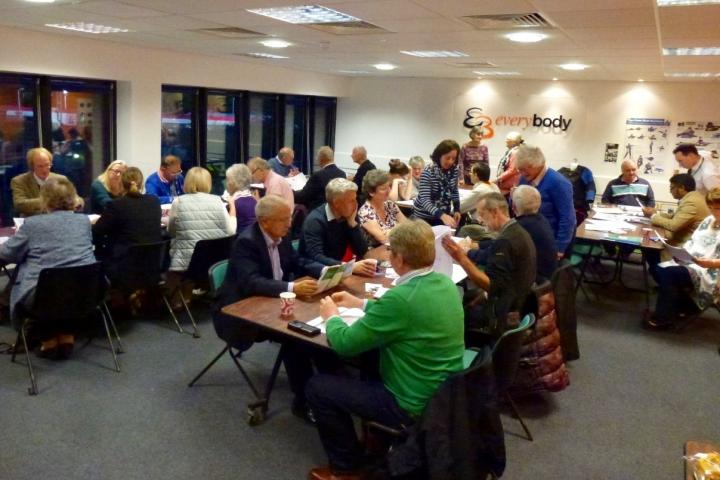 A new organisation which has been set up with the aim of bringing additional investment into the town held its first quarterly meeting for local voluntary groups this week.
On Thursday, 17th September, forty people representing thirty groups attended the meeting at Wilmslow Leisure Centre to find out about the opportunities offered by Wilmslow Partnership and to share a brief description of their activities.
Amongst the organisations who attended were theatre and musical groups, Guides and Scouts, a number of sports clubs including the Rifle Club, two of the three Wilmslow WI groups, representatives from Lindow Common and the Carrs, allotment societies, Wilmslow Clean Team, Incredible Edible and In Bloom plus the Business Group, Transition Wilmslow and Wilmslow Trust. Others, who would have liked to attend have arranged a separate meeting.
Ruth McNulty, Chair of the Wilmslow Partnership said "This is a very promising start for the future of a new way of working together. The Partnership is a vehicle to help bring investment into the town to help voluntary organisations realise their ambitions and the groups who came on Thursday were not short of ideas.
"The Partnership believes that 'Investment' could be cash but it could equally be more people or members. It became very clear that the principal concern of the majority of groups represented yesterday was a shortage of volunteers. The Partnership will therefore be looking at various ways to reach potential new people."
John Mills, Director of the Wilmslow Business Group said "This is an excellent initiative and will be a catalyst to make things happen in Wilmslow. Well done to Ruth and the Team from the Partnership."
The next forum of volunteer groups will be held on Thursday 10th December.
Tags: