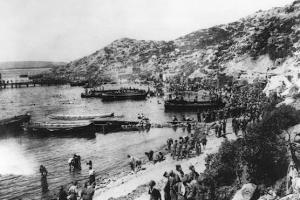 In the unbearably hot summer on the Gallipoli peninsular it was decided to launch a fresh amphibious assault on 7th August at Sulva Bay. There 20,000 men were landed in an attempt to gain another bridgehead and link up with the ANZACS further south. Mustapha Kemel, however, now in charge of the Turkish northern section, rushed in reinforcements determined to pen us down close to the sea. By the 9th he had succeeded and no further ground was gained. The town lost 5 men here this month, but the best insight may be gained from looking at the experience of a local survivor of this shallow static enclave.
William Bain Gilchrist, born on 17th June 1893 in Old Deer Aberdeen, lived with his father Duncan, mother Christine, 3 sisters and a brother in Beech Lane Wilmslow. He was first a messenger boy in a telephone office and later a "bleacher" at James Brooks in Handforth. A member of the TA since 1912, he joined the 1/7th battalion Cheshire Regiment (1368 and later 290088), 159th brigade, 53rd (Welsh) division. Sailing from Devonport, via Alexandria, Port Said, the troops in the so-called Mediterranean Expeditionary Force, had no idea where they were going. When the Cheshires landed on the 8th August – exactly one year after the company marched out of Wilmslow to join the battalion for mobilisation - the military position beggared description: the previous day's assault had been severely mauled; the men had no ammunition except what they carried, no transport and no artillery support. Precise orders were either unclear or non-existent. Medical supplies were confined to the contents of doctors' haversacks and there was "no food, no tools, little water, nothing except what they stood up in".
The men tried to advance over salt lakes steadily uphill over often burning scrubland. The Cheshire battalions (1/4th, 1/6th and 1/7th) showed incredible bravery in spite of the hopeless nightmare of indecision that surrounded them. William, himself, was bayoneted in the leg on 10th August and was eventually moved to Malta. He was later discharged as "physically unfit but of very good conduct". He suffered from vertigo as well and was awarded a gratuity of £37.10 in 1917. He had 3 medals and was awarded the Silver War Badge back home to avoid the "white feather treatment". He had no disability pension and in later life lived in Oak Villas, Water Lane and worked in the Victoria Factory of Brunner Mond in Northwich. He died in 1965. His son, Phillip, formerly of Capesthorne Road now resides in Bollington with his wife Susan.
On the same day that William was wounded a fellow member of the 1/7th was killed – William George Owen (1226) aged 25. He was born in Bangor in 1889 and in 1911 was living in Church Street with his father Samuel, mother Mary, 6 younger brothers and a sister. He was a lamplighter by trade. He later married Annie and they lived at Booth Terrace, South Oak Lane. He is remembered on Helles Memorial, in St Bart's, on the civic memorial and in the Methodist Church. His nephew, David, now lives in Oerlinghausen, Germany with his wife, Annaliese, whom he first met when doing National Service in Germany 50 years ago. After National Service he became a regular soldier and served for nearly 38 years in first The Rifle Brigade and then the Royal Green Jackets. For his contribution to Anglo German relations he was made a Freeman of the City of London in 2009. His father Llewellyn (William's brother) was also in the Cheshires and part of the Rhineland army of occupation in 1919 and actually got a steel tooth made for him by a German dentist!
Photo: Gallipoli campaign.
Guest post by Jon Armstrong and Alan Cooper of Wilmslow Historical Society.