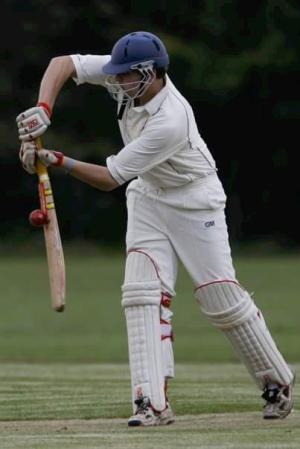 Wilmslow Wayfarers made hardwork in their victory over Wirral Cc at the Oakwood Farm Oval.
Losing the toss The Wayfarers were inserted into bat, where openers Hassell (38) and Shirley (4) had to set about the job in hand on a tricky wicket.
Wickets however fell at regular intervals, with only Condliffe (19) and Mushtaq (16) looking able to deal with the wicket and bowling attack of Slight (4-26) and Gambles (3-40).
Wayfarers fell all out to a sub par 105.
In the reply Wirral were put under pressure from the first ball, as Captain Mape (2-17) with the new, swinging ball took a wicket from the first ball.
The second over was equally impressive as Bilal Hussein (6-19) taking two precious early strikes.
Kumar (20) and Fletcher (16*) attempted to patch up a disappointing batting performance from both sides, however it was Andy Bruce (2-2) who removed the tail and secured 25 points for The Wayfarers.
Wayfarers 2nd Xi lost the toss away against a tough Haslington 2nd Xi.
Tight bowling from Waheed (4-35) and Captain Zeb (5-15) managed to scupper any charge from the home team, as they were all out for 106.
In response Khan (29) and Caulfield (11*) laboured the Wayfarers to a three wicket victory.
A 75 point weekend was narrowly missed, as the 3rd Xi fell two wickets short of victory against Irby 4's.
Matthews scored a powerful 120 in the Wayfarers total of 192.
Matthews day continued in good form as he claimed 4 wickets in the Irby reply, but as the overs ran out, Irby finished well short of their target on 120 for 8.
Photo: Hassell on his way to 38 for the Wayfarers.
Guest post by Anthony Mape.
Tags: