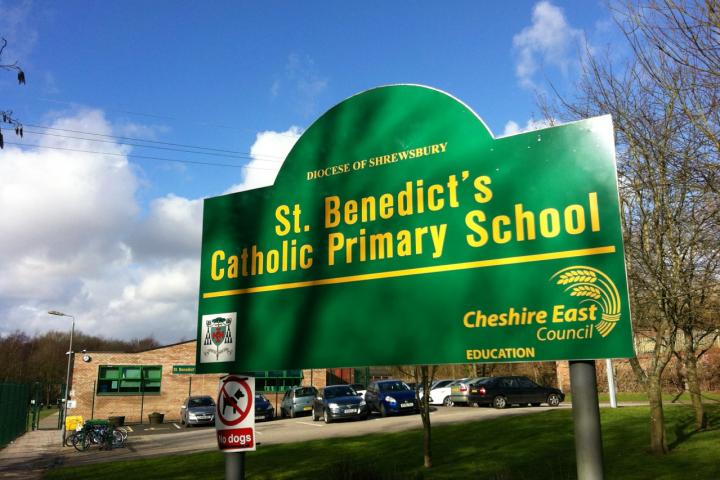 St Benedict's Catholic Primary School in Handforth is amongst 67 schools in the North West to have qualified for the 2015 Pupil Premium Awards following the publication of key stage 2 results last week.
The results of these schools showed that they have made, or continue to make, impressive improvements in the attainment of their disadvantaged pupils.
Every school has won £1,000 and those school that have six or more disadvantaged pupils in Year 6 in 2013 and 2014 will now be invited to apply for prizes worth up to £100,000. St Benedict's is eligible for a larger award and is currently considering applying. Final prizes will be awarded at a ceremony hosted by Deputy Prime Minister Nick Clegg in March next year.
The Pupil Premium Awards reward schools which are able to provide evidence of effective strategies to improve the achievement of disadvantaged pupils and show sustained improvement in raising their attainment. The pupil premium is extra funding schools receive for every disadvantaged pupil they teach and is worth £2.5bn this year alone.
Jane Gornell, Headteacher at St Benedict's said "St Benedict's Catholic Primary School staff and governors are delighted to have been recognised as one of the 67 schools to have awarded a pupil premium award of £1000 in recognition of the good progress made by children in receipt of pupil premium. St Benedict's School prides itself on being an aspirational school which meets the needs of all its pupils."
Schools Minister David Laws said: "The pupil premium is building a fairer society with opportunity for everyone.
"I would encourage all of the primary schools in the North West which have received a £1,000 prize to share their achievements with other schools so that they can learn from their strengths and experience.
"I hope all schools will continue to learn from this excellent practice and ensure they are using their pupil premium effectively, so that they too may be in the running for a prize in 2016."
Tags: