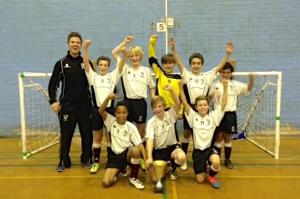 On the 1st of December, Wilmslow High School's U12 Boys 5-a-side team travelled to Poynton High School to compete in the Macclesfield & District Schools' Football Tournament.
Drawn in a tough group, the squad of 8 started the tournament poorly - losing the opening fixture 1-0, and drawing their second game 1-1, the boys' nerve and bottom lips were wobbling. However, it appeared the footballing Gods were on their side.
A strange series of results then saw us playing the undefeated Poynton High in our final group match. What the boys thought might be their swansong, was now their last opportunity to stay in the competition. All they needed to do was beat the undefeated Poynton by 1 goal or more and they were in the finals; and that is exactly what they did! A fantastic James Davidson strike found the top corner - putting Wilmslow into the Semi-Final as runners up in their group.
The team had now settled and started to play some great football, beating a well drilled Macclesfield Academy side 3-0 with two glorious goals from captain Will Frost and one from Gabriel Araujo. This emphatic win set up a final and a rematch against Poynton High.
In a free-flowing, physical and high-tempo Final, the only thing that could separate the two sides was a fantastic individual effort from man-of-the-tournament Harry Bachofner. Poynton kept the pressure on until the final seconds, but a string of incredible saves by Joe Lomas frustrated the Poynton attack.
A fantastic performance in the later stages of the tournament ensured that the boys will now progress to the Cheshire Schools Cup competition which will be held in the New Year.
Tags: