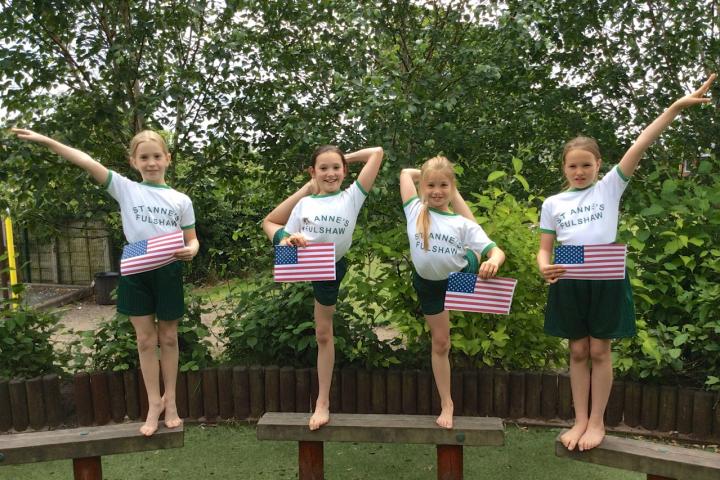 Four pupils from St Anne's Fulshaw Primary School have been selected to compete for Great Britain this week.
Rhythmic gymnasts: Sophie Forsyth, Grace Forsyth, Jessica Winstanley and Leila Mulholland jetted off to Florida on Friday, 27th June to compete in the USA IGC 2014 World Championships.
Linsey Jackson who is responsible for sport at the school commented "These children are only 9 and 10 years old and to travel to Florida for a week to compete in a competition of this kind is absolutely amazing! Some of these children started in the Gym Club at St Anne's, before moving onto Stockport. This just shows what you can achieve with hard work and dedication and all four girls are a true inspration to the other gymnasts at St Anne's."
The girls will be representing Great Britain, along with another 13 girls from the Stockport Rhythmic Gymnastics Club. They will perform three routines each: ball, hoop and free - where no apparatus is used. Sophie who also competes individually at national level will be part of an additional group routine.
Head teacher Ms. Daniel said "Encouraging children to participate in sport of all kinds is a vital part of the identity of our school. We are delighted that these girls will get the opportunity to represent their country. The whole school wishes them all the very best in America."
Tags: