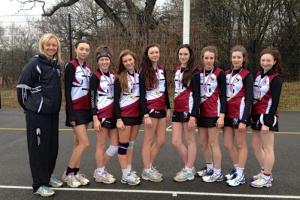 After narrowly missing out on the National Finals last weekend, Wilmslow's Under 16 netball squad were determined not to come away disappointed again this Saturday.
Depleted by illness and injury, with both Rose Hewertson and Lauren Hoodless missing, Milly Graham playing with a pulled muscle in her back and Iona Darroch still suffering the last effects of flu, they refused to let this stand in their way.
The tournament was staged as a round robin with nine games over the course of the morning. All of the girls played fantastically well in cold and damp conditions and thoroughly dispatched of the opposition.
The most nerve racking moments came against a strong Weaverham side, where, in the first half the Wilmslow girls struggled to get around their 6'1 Goal Keeper and made too many unforced errors throughout the court. At the half time break Wilmslow were trailing 1-4 but fought back and won it 5-4 with 10 seconds to go.
Another big test was to follow against Christleton, a team Wilmslow had beaten 8-4 in the final of the National County Round back in November. It was a nervy 2-2 at half time but in the second half, Wilmslow capitalised on their chances and forced Christleton into a number of errors, winning relatively comfortably in the end, 6 - 3.
Throughout the day, the attacking trio of Natalia Schofield, Iona Darroch and Katie Orr were totally dominant and rotated effectively with each other.
Centre court players Natalie Mitchell, Milly Graham and Holly James worked tirelessly to link up the attack and help the defence with Holly James in particular being responsible for numerous turnovers. Kensey Tucker and Rosie Chapman made a formidable defence who conceded only twenty goals in nine matches.
Well done to all of the girls. Their victory means that they have now won the U19 and U16 County Tournaments this season, a fantastic achievement.
Played: 9 Won: 9 Goals For: 104 Goals Against: 20
Results: The Grange W 13-2, Bishop Heber W 10-1, Ellesmere Port Academy W 20-1, Alsager W 13-4, Helsby W 12-2, Lymm W 11-1, Weaverham W 6-5, Christleton W 6-3
and Whitby W 14-3.
Match report by Huw Williams.
Tags: