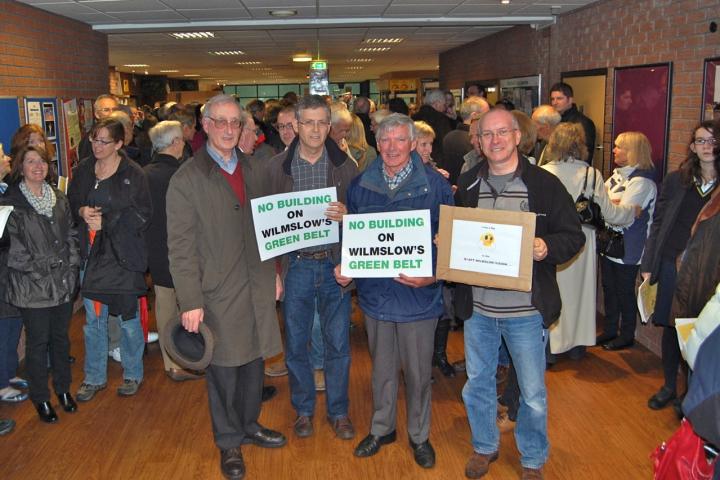 Hundreds of local residents got together yesterday evening to protest against proposals in the Draft Wilmslow Vision document, which includes the suggestion that 1500 new homes could be built on green belt land by 2030.
Over 200 people, including both Cheshire East and Wilmslow Town councillors, gathered at the leisure centre on Thursday, 26th April, to demonstrate the strength of feeling over draft proposals for how the town should develop in the next 18 years.
Manuel Golding said "The numbers here have surpassed all we expected. It all started as a comment at a meeting of Fulshaw Park residents last week and snowballed. It does show the level of concern amongst the residents of Wilmslow.
"This is not just a green belt issue but also about the town centre. Some of us, me included, have been labelled troublemakers but we are being asked to give answers to questions that could deeply destroy our town."
Manuel added "The advice we are giving is to say no to every question on the questionnaire, an unequivocal no.
"This is only the start of this process. This campaign and fight to protect the green belt around Wilmslow and protect Wilmslow from urban sprawl will go on for the next 18 to 24 months. There will be more public consultations so we need to be ready.
"We need to be united under one banner so we have one voice for Wilmslow. It is important we have one voice, there is no place for nimbyism."
Derek Altoft, of Chesham Road, added "Tonight was almost spontaneous, it wasn't really organised at all but has proved the deep fear about what's happening in Wilmslow.
"Imagine what the support will be like when we really get organised."
Manuel Golding also informed the crowd that they are looking to hold a public meeting, probably at the leisure centre, in May.
Readers can download the draft Wilmslow Vision document which is attached here, along with a copy of frequently asked questions and the questionnaire.
The deadline for submitting the questionnaire is now Thursday 31st May.
One questionnaire can be submitted per person, it is not restricted to one per household.
Click on the 'Wilmslow Vision' tag below for previous articles on this subject.
Photo: (l-r) Manuel Golding, Derek Altoft, John Hanna and Stuart Redgard.
Tags: