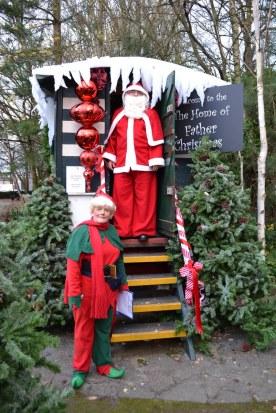 The Wilmslow Christmas Festival kicks off this week with ten days of entertainment, festivity and fun in the town centre.
Starting on Friday, November 25th, Alderley Road will be transformed into a Christmas shoppers haven where over 70 continental and artisan traders will come together for the Wilmslow Christmas Market selling a range of festive foods, drinks and gifts.
The stalls will be located along the service road from Sainsbury's to Multi-York and be open everyday 11am to 8pm until Sunday 4th December.
There will also be an 'Open Mic' stage positioned right in the middle of the Christmas Market for the duration of the festival. The organisers are inviting local groups, singers, poets and other acts to take part and entertain the crowds.
There will be a PA system set up and the organisers office will be located behind the stage so entertainers can just turn up or contact the organisers in advance to discuss a slot.
ImagineFM will be broadcasting from Grove Street on Friday, with live performances throughout the day. Crowds will entertained by Lacey Green Junior School Choir, Clague and Green Dance School, local rock band Forever and A Day and teen sensation Hatty Keane from Macclesfield, who has a new single and video out after a successful year of recording.
New boyband Juice, jazz singer Alexander Stewart and Re Connected, from Britain's Got Talent 2009, will also be performing before the headline act Diva Fever takes to the stage.
The 2010 X Factor finalists will switch on Wilmslow's new Christmas lights with the help of Father Christmas at approximately 7pm.
The very popular ice rink will be positioned on Bank Square throughout the festival. It will be open until 8pm everyday and is larger than last year's so more skaters can be accommodated. New for this year a carousel, trampolines and other children's rides will be located on Parsonage Green.
Santa's Grotto will be open from 10am until 4pm at weekends, in Romany's caravan, near Wilmslow Library where the Combined Charities Christmas Shop is open until Saturday 10th December selling cards, gifts, paper, toys and stocking fillers.
Other events during the festival include a Churches Together Carol Concert at Romany's Caravan on Sunday 4th December at 3pm and the churches Christmas Tree Festival at the United Reformed Church on Alderley Road.
Organiser Denise Valente, explained "The aim is to offer the community a festive, seasonal experience right here in Wilmslow. We hope the local retailers will benefit from the influx of visitors and the residents will be have a good reason to stay here in Wilmslow for their Christmas shopping rather than visiting out of town venues."
For further information about Wilmslow Christmas Festival email Denise Valente or call her on 07789 181677.