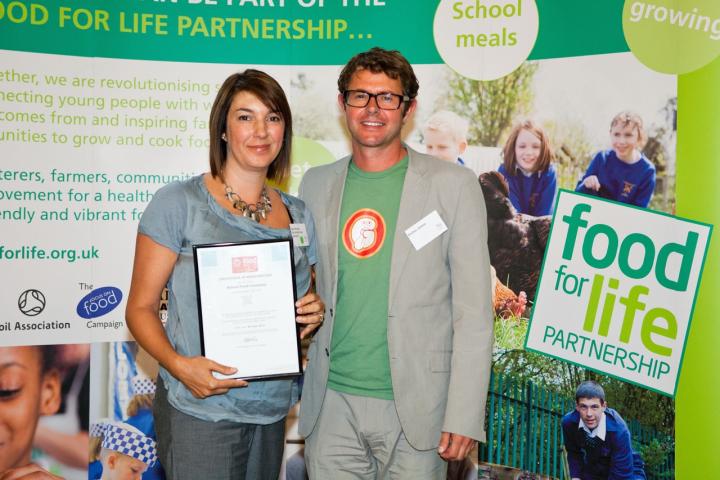 A Wilmslow based company has received a prestigious food award for outstanding catering in the North West.
Celebrity food writer and TV presenter Stefan Gates presented School Food Company with the Food for Life Partnership Silver Award for its commitment to transforming food culture in the region.
The small local company was amongst a handful of caterers from the North of England who were commended for their achievements at the awards ceremony, which took place at Manchester Town Hall on Tuesday 5th July.
Stefan Gates said "This is more than just an award ceremony. This is a celebration of schools and caterers that have succeeded in transforming their food culture.
"Young people in these schools are cooking, growing and eating fresh, seasonal, local and organic food, and reconnecting with the farms that produce their food. These youngsters and their parents are celebrating good food and best of all it's giving them what will probably be some of the most enjoyable experiences of their school lives."
School Food Company provides the school meals at Gorsey Bank Primary School where they have a range of locally sourced and organic items on their menus. Pupils and parents are involved in planning improvements to school menus and the dining experience, and every pupil has the opportunity to visit a farm as well as cooking and growing food during their time at school. The wider community is also involved in food education via food-themed events.
Anya Murray, Company Director of School Food Company, said: "We are absolutely delighted to have been presented with this award, we have worked hard over the past four years to achieve the award criteria.
"Our sales have increased by 20% since adopting the Food for Life philosophy and we couldn't be happier. By working with the school and Food for Life we are promoting a whole school approach to good food, where good food comes from and why it's important to health and wellbeing."
Jeanette Orrey, School Meals Policy Advisor for the Food for Life Partnership and the famous dinner lady who inspired Jamie Oliver's school meals campaign, hosted the awards ceremony. She emphasises how much has happened in the school food arena since she co-founded the original school food campaign with the Soil Association back in 2003.
Jeanette Orrey said: "When we started campaigning for better school dinners we had no idea that more than 3,800 schools would have joined the campaign, and not only improve their school dinners, but also to embrace food education. We must make sure that all this good work carries on and that the Coalition Government makes a good, healthy and sustainable food culture in schools and their communities a priority."
The Food for Life Partnership is a network of schools and communities across England committed to transforming food culture. Together we are revolutionising school meals, reconnecting young people with farms and inspiring families to cook and grow food.
The initiative is funded by the Big Lottery Fund and led by the Soil Association, bringing together the practical expertise of the Focus on Food Campaign, Garden Organic and the Health Education Trust.
Photo: Anya Murray with Stefan Gates from BBC's Gastronuts.