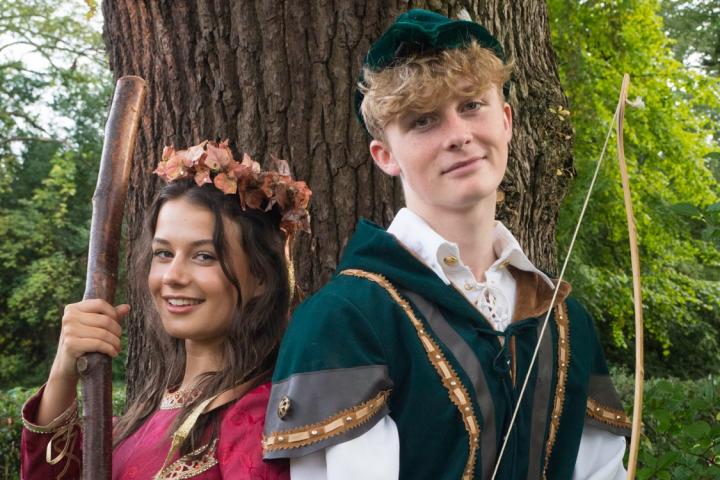 Following on from the huge success of Cheshire Youth Pantomime's sell-out event last year, tickets are now available for their production of Robin Hood.
Bringing a slice of Sherwood Forest to Wilmslow, Robin Hood is the new production from the award-winning CHYPS theatre company, running once again at the Evans Theatre, Wilmslow Leisure Centre, for six performances from 3rd to 7th January 2024.
Performed by a talented group of 11- to 18-year-old singers, dancers and actors, and backed by a live band and spectacular staging.
CHYPS Director Sally Hunt said "Robin Hood is a legendary tale, and we're pulling out all the stops to do it justice and to make this a show to remember! Once again, we're at the wonderful Evans Theatre in the heart of Wilmslow, which we've really made our home over the past couple of years.
"Our audiences will see a traditional (and hilarious!) family pantomime, suitable for ages 3 to 103, staged to a near-professional standard, and performed by an incredibly talented and high-energy teenage cast, many of whom are serious about performing arts as a career.
"You'll experience beautifully sung musical numbers and spectacular dancing, all set to live music from our superbly talented band. Robin Hood is the perfect family show, and I can confidently predict that you'll go home buzzing and blown away!"
James Walton, 17, plays Robin Hood; James is a seven-year veteran of CHYPS and is looking forward to his lead role this year. He said "I can't wait for you all to see Robin Hood – it's going to be fantastic! We're all practicing our singing, acting, dancing and archery skills, and this show is sure to hit the bullseye!".
Tilly Holah plays Marian; Tilly is also 17 and like James, she's a longstanding CHYPS performer. She is studying at Pendleton School of Theatre in Salford for a future career on the stage.
Tilly said, "This will be the kind of Marian you won't have seen before – she's bold, fearless and feisty, and her posse of sidekicks, the Lionesses, will give the Merry Men a run for their money. I'm really excited to be playing this role alongside my fellow CHYPS players – don't miss out, it's going to be a brilliant show!".
You can book tickets at www.chypspanto.com.
In the meantime the CHYPS cast will be performing at the Wilmslow Round Table Charity Bonfire on Saturday 4th November at the Carnival Fields on Altrincham Road.