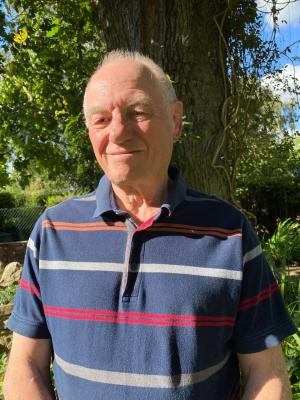 78-year-old Brian Richardson is taking on the Spanish Three Peaks Trek Challenge in the Sierra Nevada National Park from September 13-17th 2023 to raise money for The Christie Charity.
Despite having two artificial knees, Brian is taking on the gruelling trek which will see participants cover almost 50km and take on three peaks, including mainland Spain's highest peak Mulhacen at 3,482m in just three days.
The retired civil structural engineer from Wilmslow decided to take on the challenge as a thank you to The Christie hospital, having been treated there for stage 3 bladder cancer. Thankfully, Brian was given the all-clear in September 2022, having undergone chemotherapy, radiotherapy and immunotherapy.
He was diagnosed with bladder cancer in 2019 after a routine check-up, where he mentioned to his doctor that he was having difficulty passing water. Brian presumed it was a problem with his prostate, but tests revealed a bladder tumour that had penetrated his bladder wall and showed signs of being in his lungs and some lymph glands.
Brian started treatment at The Christie in February 2020 and during one of his treatment sessions he saw a poster promoting the charity trek and signed up, as he explains:
"I love walking so this seems not only a fitting challenge, but a wonderful opportunity to express my gratitude to The Christie for the full and active life its research and treatment has allowed me to continue enjoying.
"On the last day of the trek we have a descent of 6,000 ft which will be challenging and I'm sure it will test my knees, but I am doing a lot of training in preparation ~ including going to the gym every other day. I'm used to doing this level of walking, so I'm confident I'm prepared."
Lindsey Farthing, Sporting Events Manager at The Christie Charity, says: "Brian is an inspiration. To be tackling a challenge like the Spanish Three Peaks Trek is quite a feat at any age. But to be doing it at 78 is incredible!
"We are delighted that he has chosen to be part of this once-in-a-lifetime experience to support our charity and we're sure he will have a fabulous time."
To support Brian, go to Brian Richardson is fundraising for The Christie.