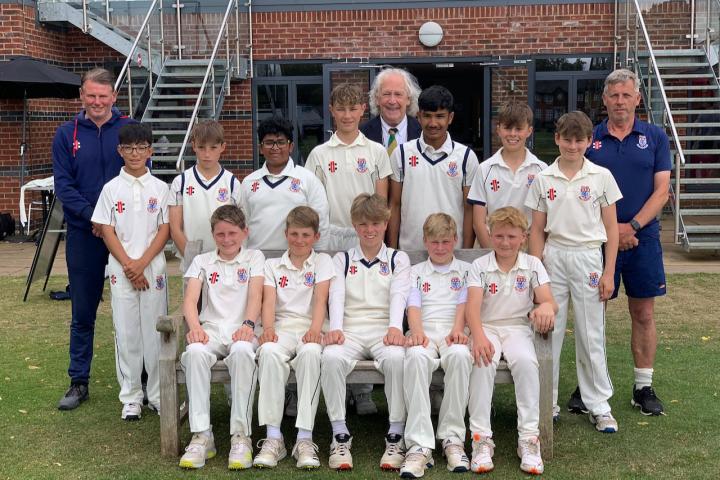 Promotional Feature
A last ball thriller saw the talented King's School U13 team lift the prestigious David English, Bunbury National School's Cup against the pride of London.
It is the first time King's has ever lifted a National Schools' Cricket Cup, with the boys' cavalier performance set to become the stuff of legend.
With a brand of cricket resembling the modern 'Bazball', King's took on renowned sports school Dulwich College in a blow-by-blow encounter that had a huge crowd of parents and friends hiding their eyes at the picturesque Oakham School in Rutland.
But cometh the hour, cometh the man, or more appropriately men, with tough death bowler Leo Burns bowling a tight last over of just four runs to deny Dulwich's last pair. However, it wasn't just the last over, but the very last ball that counted, with the Dulwich number 11, needing only one run to tie and two win, hammering a drive to cover point only for the fearless Ollie Price to hang to a world class catch and win the match.
It was the cue for scenes of delirium, especially from the mums and dads, but the boys to their credit were the first to offer their condolences to the wonderful Dulwich side who had suffered the sting of defeat.
Having been put into bat, King's amassed a challenging 192 for 7 off their 35 overs with lynch pin Liam Yahathugoda, top-scoring with a typically elegant 47. But for hard-hitting antics look no further than wicket-keeper batsman Joe Moores who won the Player of the Match award with a superb 36 off just 18 balls, producing a defiant 'fetch-that' display that shifted the momentum. Alfie Usher was another to rise to the occasion with a superb 36, showing both intelligence and opportunism in his shot-making skills.
King's then had to face down a Dulwich batting line up with immense explosive potential. Though they started well with their star-man, allrounder Roan Kennedy batting powerfully, King's pegged them back thanks to off-spin twins Usher and Yahathugoda, Leg spinner Adi Nair then bamboozled the middle order with powerhouse pace man Price coming back to dip into the wickets.
Earlier King's had qualified by beating MGS, the Lancashire winners, St Peter's, the Yorkshire winners and Sedbergh, the Cumbria champions, to be crowned Northern Cup Champions.
Coach and one of the proud dads, Steve Moores, said: "In a competition that covers two school years, for a final match to come to the very last ball is astonishing and speaks volumes for quality of these two cricket sides on the most exciting of stages. It was a great advert for schools' cricket."
Caption: King's coaches Andy Harris and Steve Moores (right) with the legendary cricketing philanthropist David Bunbury (centre) and the triumphant King's U13 National Champions.