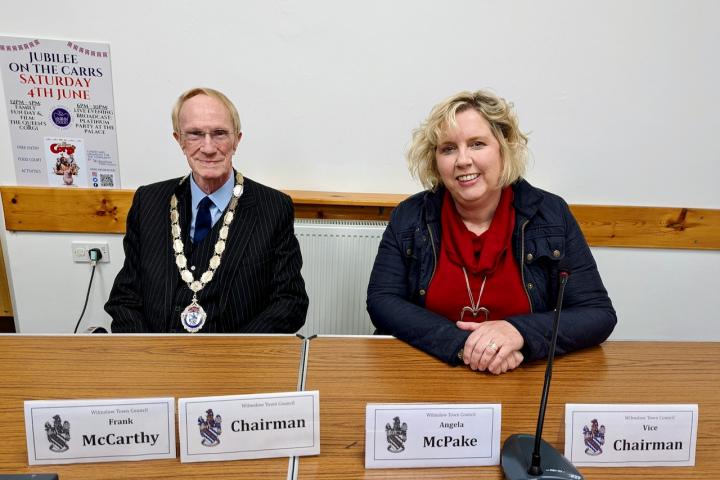 At the Annual Meeting on Monday, 16th May, Councillor Frank McCarthy was elected the new Chair of Wilmslow Town Council and Councillor Angela McPake was elected the new Vice Chair.
Outgoing Chairman of seven years, Martin Watkins, who will remain a member of the Town Council, said, "It has been an absolute honour and privilege to have been the Chairman of the Council for seven of the last eight years.
"I am proud to have led a Council team whose diversity is reflected not only by its composition of unpaid volunteers, but also in its work. Today there is a wonderful sense of identity in the town with a real sense that Wilmslow has a lot to offer. Long may this continue as I wish the new Chairman every success for the future."
New Chairman Frank McCarthy, who has been Vice Chair of Wilmslow Town Council for three of his eight years on the Council, said, "I would like to thank Martin for the way he has conducted himself as Chair over the past seven years. People don't realise the amount of unpaid work that goes on behind the scenes; Cllr Watkins has worked tirelessly and very effectively during his time as Chair."
Addressing the rest of the Council, Frank added, "Every one of us is working for the same reason – to represent the people of Wilmslow – and I look forward to working with you as your Chairman over the next year."
New Vice Chair Angela McPake, who was co-opted as a Councillor in January 2022, having previously been Vice-Chair for two of her four years on Wilmslow Town Council between 2015 to 2019, said, "I would like to thank my colleagues for their support in electing me as vice-chair of the Council. I am looking forward to being able to get involved in more areas in a bid to support the people of Wilmslow and to continue to make the town a great place to live. I am also looking forward to working with Frank as the new Chairman, having worked with him a few years ago when we were both involved with the Wilmslow Show."